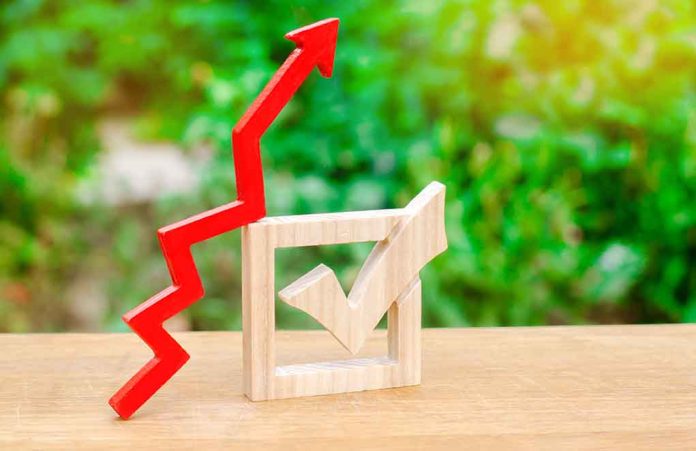 Election Boost Seen for Governors with Light Touch COVID Policies
(LibertySons.org) – While COVID-19 didn't appear to be the biggest issue on voters' minds during the midterms, it was a point the candidates touted often. That approach seemed to have paid off for a handful of governors who'd snubbed the strict protocols of the federal government and many Democratic-led states. In fact, they grabbed big wins in their bids for re-election.
Governors opposed to draconian lockdowns increased margins of victory in 2022 https://t.co/gVdst6l8Bd

— Jake Schneider (@jacobkschneider) November 13, 2022
Five governors specifically had strong approaches to the pandemic that rebuffed the rhetoric out of Washington, DC. Four Republican governors — Ron DeSantis (FL), Kristi Noem (SD), Kim Reynolds (IA), and Brian Kemp (GA) — made waves by issuing short stay-at-home orders. Noem never issued them at all. She opened schools back up quickly, pushing in-person learning for the benefit of the children. These governors also stayed away from mask and vaccine mandates.
One Democrat, Colorado Governor Jared Polis, also wasn't a fan of strict COVID-19 protocols. He only observed a one-month lockdown and gave the power to schools in the 2020/2021 year to decide if they would do in-person learning.
Each of these leaders managed to significantly expand their victory margins over their previous numbers. DeSantis had a shocking victory. In 2018, he barely won office with only a 0.4% lead. This year, he grabbed success by 19.4%.
Noem also saw a huge win. She got into office by only 3.4% in 2018, but this year, she won by 26.8%. In Iowa, Reynolds reclaimed victory by 18.6%, compared to the 2.8% she earned last time.
Kemp was again up against Democrat Stacey Abrams, whom he beat only by 1.4% in 2018. This time, he had a clear victory over her by 7.5%. Polis was strong in the last election, but he managed to increase his performance with a 19.1% win compared to 10.6% in 2018.
~Here's to Our Liberty!
Copyright 2022, LibertySons.org