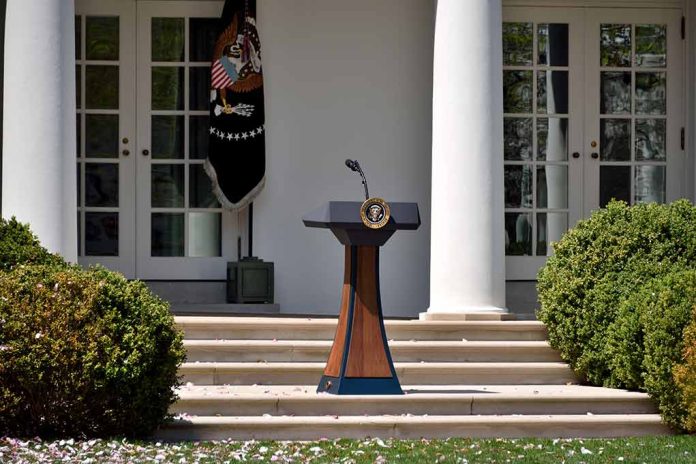 (LibertySons.org) – After the fact, White House press secretary Karine Jean-Pierre (KJP) announced that President Joe Biden had always planned to leave helicopter pilot hero Army Captain Larry Taylor's Medal of Honor Ceremony early. Yet her explanation has fallen flat with many critics who've taken to social media. Now, critics across the spectrum are grilling KJP online for the administration's "insulting" excuse for the president's early exit.
On Tuesday, September 5, Biden presented Taylor with the Medal of Honor for heroic actions during the Vietnam War, where the former pilot rescued four soldiers surrounded by enemy troops. After placing the medal on Taylor, the crowd applauded, and Biden walked down the center aisle and out of the room. He did not wear a mask during the ceremony and shook hands with Taylor after draping the medal around his neck — so he wasn't practicing distancing.
KJP insisted the president planned the exit during the applause break, allowing him to minimize the amount of time he spent amongst the crowd even though she claimed he continues testing negative for contagions. Yet several people found her explanation for the early exit dubious.
Joe Concha, a frequent contributor to Fox News, tweeted the point succinctly. He pointed out that Biden spent the entire ceremony unmasked and in close proximity to people, especially the 81-year-old recipient. Concha called Jean-Pierre's explanation an "insult" of "breathtaking" proportions, having people believe the president was so concerned that he left before the final prayer, walking unmasked through the middle of the audience to do so.
Jeffery Dove Jr., a veteran and conservative politician from Virginia who made a failed bid for the state House, tweeted another observation. He asked why KJP and the administration hadn't just announced Biden's planned exit to the press from the beginning. He pointed out that the administration looked like they were covering a blunder after the fact because of the choice not to disclose before.
Spencer Brown, the managing editor for Townhall Media, also commented on X, formerly Twitter. He asked whether Jean-Pierre's explanation for Biden's purposeful abandonment of the Medal of Honor recipient on stage confirmed that "the situation was as bad, if not worse, than it looked."
Moreover, many observers found Jean-Pierre's explanation unsatisfactory and the president's behavior unfathomable.
~Here's to Our Liberty!
Copyright 2023, LibertySons.org