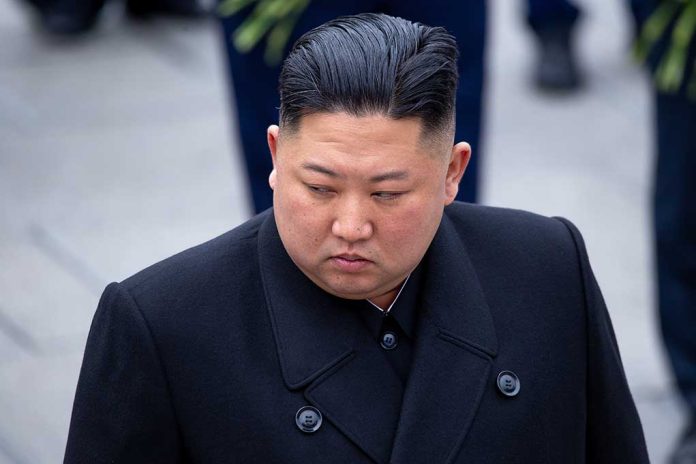 (LibertySons.org) – In addition to the instability in the situation between Ukraine and Russia, the United States must keep an eye on other dangerous actors. North Korea, which has taken an aggressive stance against America, launched a missile on March 16. The launch may have ended in failure, but it comes during a time of increased rumors the country is planning long-range missile testing.
The Failed Launch
South Korea and US intelligence had no details on the type of missile or the exact cause of the failure. Reports from South Korea say it exploded shortly after liftoff at about 6.2 miles altitude.
Intelligence noted the launch happened at 9:30 a.m. and came from the Pyongyang region. Experts assess it likely took place at the international airport.
There were no immediate reports out of the nation about injuries or damages. Still, honorary research fellow at the Science and Technology Policy Institute in South Korea, Lee Choon Geun, said if it exploded shortly after launch, the health impact on civilians could be significant. According to a missile expert, Chang Young-keun, debris could have spread between 62 to 124 miles away from the site.
The test marks the 10th launch in 2022. The activity is a sign of North Korea's determination to press forward with modernizing its weapons and put pressure on other countries to make concessions during stalled denuclearization talks. The US Indo-Pacific Command stated there is no immediate threat to the United States or its allies. Command also requested that North Korea cease all further launches.
A Failure Won't End Anything
Despite failures, North Korea continues toward reaching the goal of amassing nuclear weapons. In 2017, the nation had success with intercontinental ballistic missile (ICBM) tests, showing the country has the capability of reaching the US homeland. Other recent launches on February 27 and March 5 were with medium-range targets.
Intelligence suggests the country could be working on a full-range test. Leader Kim Jong Un promised to advance the country's ICBMs and put a spy satellite in orbit as a way to combat perceived American hostility. He also showed off the Hwasong-17, a missile that could hit anywhere in the US with a range up to 9,320 miles, during a military parade in October 2020.
If North Korea tests a new ICBM, it will do so under cover of placing a reconnaissance satellite in space. Even with the obvious act, UN sanctions are unlikely because China and Russia would oppose via the Security Council.
Most tests in 2022 have been short-range but were nuclear-capable weapons. These are the most threatening toward US allies Japan and South Korea. In addition, South Korea's Defense Ministry said on March 11 that North Korea appears to be doing restoration work at a nuclear testing site.
Any action out of North Korea is worth noting. Kim is hostile toward the US, and with the already tense situation involving Russia, the last thing anyone needs is North Korea getting into the conflict or starting a new one.
~Here's to Our Liberty!
Copyright 2022, LibertySons.org