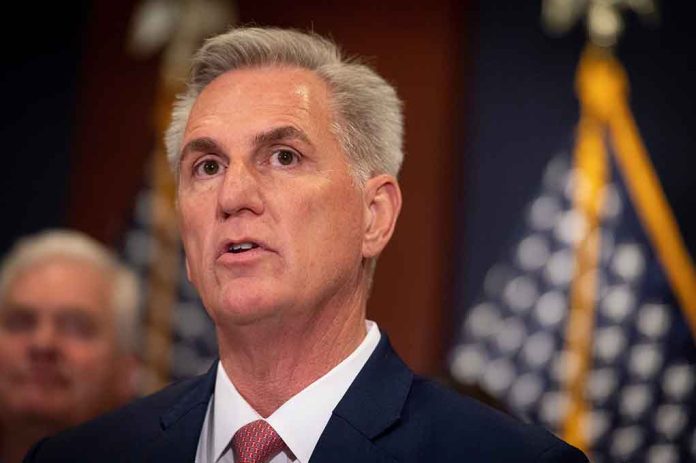 (LibertySons.org) – The June 1 deadline to resolve the budget ceiling deadlock loomed large on Congressional leaders and President Joe Biden on Tuesday, May 16, as they met to negotiate the terms of an increase before the POTUS leaves for an abbreviated trip to Asia on Wednesday.
House Speaker Kevin McCarthy (R-CA) expressed optimism and gave reporters a special update after the meeting. He told them that he and the president had "improved" the negotiation "structure" and "changed the scope" of those arbitrating the debt ceiling deal through a mutual agreement, according to a report from The Hill. The Speaker said that although the parties hadn't resolved any issues during the meeting, the parties "finally" had a negotiation arrangement "that has proven to work years in the past," reported Roll Call.
McCarthy after Biden meeting: 'We set the stage' for further conversation on debt limit | Just The News https://t.co/psjGIQYx8U

— John Solomon (@jsolomonReports) May 16, 2023
Senate Majority Leader Chuck Schumer (D-NY), Senate Minority Leader Mitch McConnell (R-KY), House Minority Leader Hakeem Jeffries (D-NY), and Vice President Kamala Harris joined Biden and McCarthy in the meeting. Despite the number of potential negotiators in the room, both McCarthy and McConnell agreed that only the Speaker and President Biden could reach any substantive deal. Both consented to arbitrate directly through proxies.
As his stand-ins, President Biden chose Steve Ricchetti, a trusted adviser and longtime confidante who holds the title of Counselor to the President, and Shalanda Young, the Office of Management and Budget director. McCarthy designated Rep. Garret Graves (R-LA) and his aides to represent him in negotiations.
McCarthy met with reporters on Thursday, May 18, telling them, "I see the path […] to an agreement." He qualified his statement by saying that much work remained in front of negotiators, and neither side had yet agreed to anything, according to POLITICO. Schumer echoed McCarthy's optimism, warning senators they should prepare to return within 24 hours from their planned Memorial Day break if the House passes a debt ceiling package.
~Here's to Our Liberty!
Copyright 2023, LibertySons.org