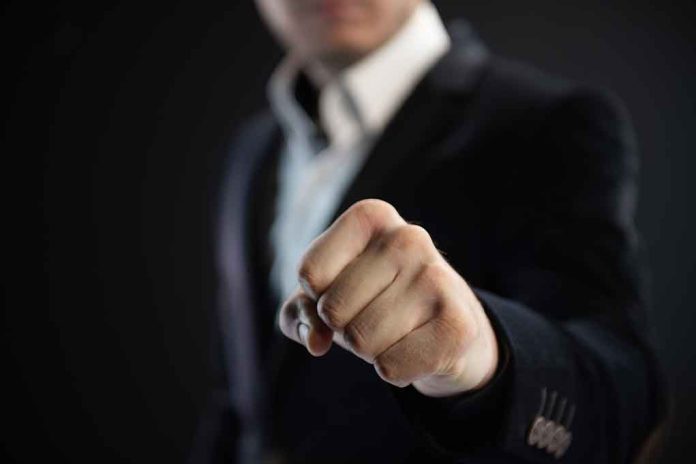 (LibertySons.org) – House Speaker Kevin McCarthy (R-CA) tried to broker an agreement between FBI Director Christopher Wray and House Oversight Committee Chairman James Comer (R-KY) at the end of May. Yet, the Speaker was unrelenting in his demands that the G-man will face a charge of contempt of Congress if he doesn't supply the document to the full committee by Thursday, June 8.
FBI's Wray Continued to Defy Subpoena
On May 3, Comer first issued a subpoena for a form FD-1023, an internal document used by FBI agents to record information transmitted by a confidential human source (CHS). A whistleblower to Sen. Chuck Grassley (R-IA) disclosed the document's existence but claimed the bureau had mishandled the information. The CHS claimed the form documented a scheme divulged by a foreign national alleging then-Vice President Joe Biden would provide favorable policy decisions in exchange for money.
For weeks, neither Comer nor Grassley could obtain confirmation or denial of the document's existence. An FBI spokesperson sent a May 10 letter explaining why the bureau maintained a policy refusing to release FD-1023 forms. As the CHS designation implies, maintaining the confidentiality of informants and their information is "critical, not only because of safety concerns but also to avoid chilling their… willingness to continue reporting [information] to the FBI."
McCarthy spoke by phone with Wray on May 19, hoping to convince him to supply the information to the Oversight Committee. With no document or communication received, Comer issued another letter on May 24, calling the director's refusal to provide the single piece of information "obstructionist" but officially narrowing the search parameters for the requested form and extending the deadline to May 30.
On May 30, Wray finally admitted the requested form existed in a letter obtained by POLITICO and offered to provide a secure viewing for Comer and ranking committee member Rep. Jamie Raskin (D-MD). Comer fired back with a press release.
Facing Contempt
After speaking with Wray by phone on May 31, Comer and Grassley issued a joint press release indicating that nothing short of the FBI releasing the requested FD-1023 document would satisfy the subpoena and threatening the director with contempt of Congress proceedings for failure to comply. Underscoring their commitment, Comer drafted a resolution recommending that the House find Wray in contempt for his refusal to abide by the Oversight Committee subpoena.
He promised to submit that resolution on Thursday, June 8, unless Wray complied. McCarthy pledged that he would assist in filing contempt-of-Congress charges to the full House. Should the House pass the resolution, Congress would refer contempt charges to the Department of Justice to decide whether to pursue the case for criminal prosecution.
The Washington Post noted that successful prosecutions of Congressional contempt charges are rare. Observers have offered varying opinions regarding whether prosecutors would pursue the case because Wray has consistently offered secure viewing accommodations to protect CHSs and maintain investigative integrity based on time-honored bureau and DOJ policies. Still, pundits point to a successful resolution in 2012 finding Obama-era Attorney General Eric Holder in contempt of Congress. The DOJ declined prosecution in that case.
~Here's to Our Liberty!
Copyright 2023, LibertySons.org