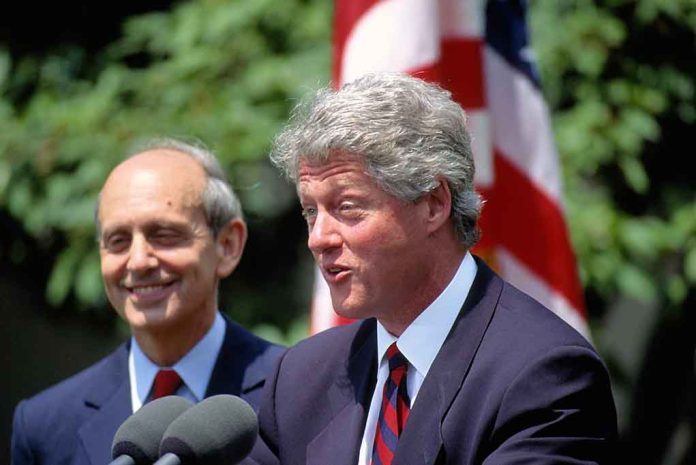 Clinton Investigator DEAD – Complications from Surgery
(LibertySons.org) – Attorney Ken Starr died on September 13 at Baylor St. Luke's Medical Center in Houston, Texas. He was 76 years old. His family said his death resulted from surgical complications without adding further details about his illness. Starr was best known for his part in the impeachment trial of former President Bill Clinton.
The Clinton Scandals
In 1994, Starr became the independent counsel for a matter involving Bill and Hillary Clinton and their questionable real estate dealings — Whitewater. While working the case, the attorney uncovered information about the former president's involvement with White House intern, Monica Lewinsky. The discovery led to the realization Bill Clinton had lied about his affair with Lewinsky in an unrelated sexual harassment lawsuit against him.
Starr took his findings to Congress, which led to an impeachment trial that captivated the public. In his 2018 book, "Contempt: A Memoir of the Clinton Investigation," he admitted to regretting his involvement with the case once the sex scandal broke but felt compelled to continue at the time.
Other Work
The professional worked in and outside of government over the span of his career. His civilian jobs included a stint as Pepperdine University's law school dean and Baylor University's president.
His contributions inside the government started in the 1970s when he clerked for Chief Justice Warren E. Burger. In 1983, Starr joined the Reagan administration's Attorney General's office and later received an appointment to the US Court of Appeals. He also served as solicitor general under former President George H. W. Bush.
The infamous barrister and judge never strayed far from legal work, offering his services at various private firms. He made partner at Kirkland & Ellis, where he worked until he received the independent counsel appointment in the Clinton case.
During his lifetime, the attorney went before the Supreme Court 36 times. He also mentored Chief Justice John Roberts and Justice Brett Kavanaugh. Before his involvement with the Clintons, he was in the running to become a Supreme Court justice.
The lawyer returned to the public stage in 2020, when he served on former President Donald Trump's legal team during his first impeachment trial.
Private Life
Ken Starr was born in Vernon, Texas, in 1946. His father was a minister, and the future attorney spent his time selling Bibles to afford his college tuition. He attended Harding College before moving on to George Washington University, later choosing Brown University for his master's degree and Duke University for law school. He married Alice Mendell in 1970, and together they had three children and nine grandchildren.
Alice Starr said her husband was a "fair and just" man who dedicated his life to fighting for the law. He served his country whenever he could, no matter the criticism, and he was an example of courage and kindness.
A colleague from Kirkland & Ellis, Elizabeth Locke, called Starr a "gentle soul" with superior ethics. His son said while his father worked viciously to uphold the rule of law, he always mady sure his family was a top priority.
~Here's to Our Liberty!
Copyright 2022, LibertySons.org