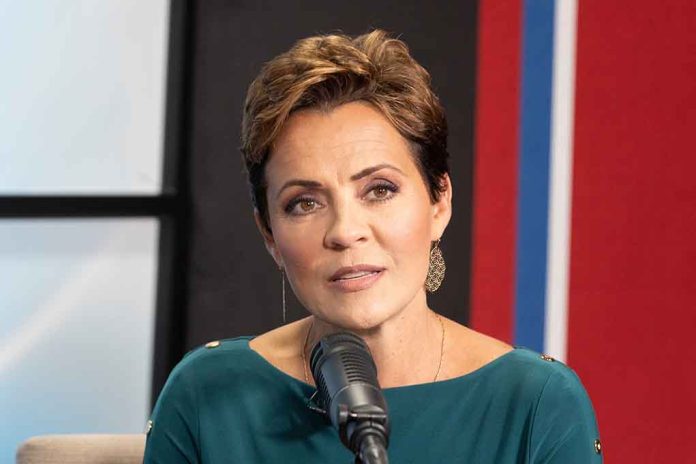 (LibertySons.org) – Unhappy with her recent election loss to Arizona Governor-elect Katie Hobbs (D), Kari Lake challenged the results. The Republican gubernatorial nominee claimed issues at the polls negatively impacted the results. But Maricopa County Superior Court Judge Peter Thompson threw out the case on December 24. He said Lake presented no solid evidence of wrongdoing during the election.
Arizona judge rejects Republican Kari Lake's challenge to gubernatorial election https://t.co/BYhKIXsCLD #FoxNews >><> And – she WILL appeal.

— Bo Snerdley (@BoSnerdley) December 24, 2022
On election day, Maricopa County announced an issue with ballot printers that prevented the machines from counting votes. The problem impacted 70 different locations, but officials said it didn't prevent anyone from voting because there were several alternative options for residents to cast their ballots.
Lake contested the results due to the ballot printer issues, which she claimed were an intentional act. She also contended the problems caused long lines and confusion for many residents. Another assertion was that poll workers had mishandled the ballots. Specifically, the suit alleged ballot scanning contractors did not follow election rules and put their personal votes directly into the counting piles instead of sending them through the appropriate channels. Lake also noted required paperwork on the ballot transfers was not available.
Judge Thompson tossed the case because he said there was no evidence for the claims. He declared it would be careless to set aside election results without proof that something untoward occurred and ordered Lake to pay Hobbs' legal team over $33,000 for fees they incurred.
After the ruling, Lake tweeted that she would appeal. She said she did have strong evidence and would not give up fighting for election integrity.
~Here's to Our Liberty!
Copyright 2022, LibertySons.org