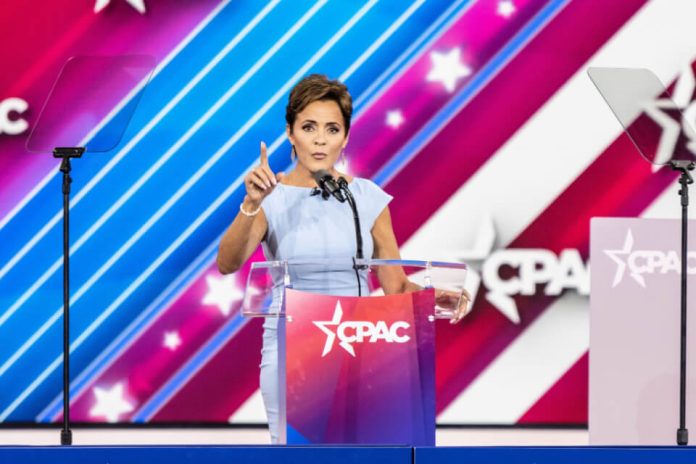 (LibertySons.org) – Former Republican Arizona gubernatorial candidate Kari Lake has taken her election integrity lawsuit to the Arizona Supreme Court in hopes of overturning the results of the 2022 election. Despite the superior and appellate courts rejecting her case, citing a lack of evidence, Lake and her lawyers argue that the lower courts had effectively ruled that "Arizona election laws don't matter." They claim that if the decision stands, it will serve to further erode public confidence in elections — a problem they maintain is already at an all-time low. They are also seeking a reversal of the lower courts' rulings based on a review of the facts.
Kari Lake has taken her election integrity lawsuit to the highest court in the state.https://t.co/Sku0gVbrnF

— The Post Millennial (@TPostMillennial) March 2, 2023
Lake's appeal centers around alleged malfunctions with some of Maricopa County's tabulator machines during the November 8, 2022, election. Her attorneys zeroed in on problems with ballot printers at some polling places in Maricopa County, home to more than half of the state's voters. They also claim that whistleblowers uncovered breaks in the chain of custody of numerous ballots.
They alleged that technical problems created chaos at polling centers, disenfranchising Republican voters.
However, the state Court of Appeals rejected Lake's claims two weeks ago, stating that the only thing Lake had to back up her claims about the tabulator problems was "sheer speculation."
Likewise, county elections have consistently maintained that everyone who experienced difficulties with ballot printers had a chance to vote. Officials have since counted all the ballots after taking them to more sophisticated counters at the elections department headquarters.
Lake's case has been controversial, with some arguing that her election fraud claims have no merit. However, she and her lawyers call on the Arizona Supreme Court to "grant review to correct this manifest error."
It remains unclear whether Arizona's highest court will agree to hear the case. However, with public trust in elections already at an all-time low, this situation highlights the importance of transparency and integrity in the electoral process.
~Here's to Our Liberty!
Copyright 2023, LibertySons.org