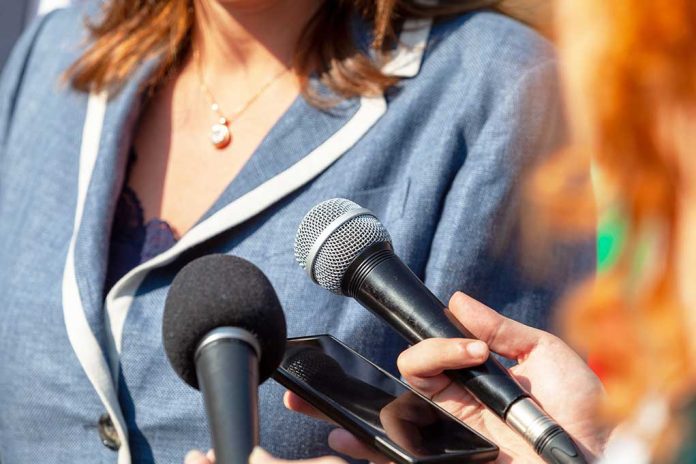 (LibertySons.org) – Kari Lake, a failed Republican gubernatorial candidate in Arizona, continues to claim her election was stolen, citing voting irregularities. With her loss still fresh in her mind, Lake recently said she's considering making a bid for US Senate to take Krysten Sinema's (I-AZ) seat.
On April 11, the Arizona Republican sat down with a wide-ranging interview with One America News Network to discuss her political future. Lake is still battling her loss to now-Governor Katie Hobbs (D-AZ) in court.
Lake confirmed that running for Sinema's seat was something she had seriously taken into consideration. Meanwhile, Lake maintains the 2022 election was stolen. However, she says she isn't backing down on her efforts to expose what happened during the midterms.
Tonight on Real America! Kari Lake talks her future career, and gives a stunning endorsement for the 2024 elections. Tune in tonight at 8pm Eastern, 5pm Pacific.@DanNewsManBall @KariLake pic.twitter.com/vKHRV9Nu3p

— One America News (@OANN) April 10, 2023
Lake also said she was ahead in the polls, which was true back in January and December, according to Newsweek. However, despite her claims she would beat the incumbent Sinema and Representative Ruben Gallego (D-AZ), recent polls suggest otherwise.
According to a new survey from OH Predictive Insights (OHPI), Lake is trailing behind Gallego. Out of the 1,000 registered voters, only 26% favored Lake. Meanwhile, 34% of the registered voters who participated in the survey indicated they supported Gallego. Curiously, Sinema only picked up about 19% of participants in a potential three-way race.
The OHPI poll also looked at the outcome of a two-way race between Lake and Gallego. Cutting the incumbent Independent from the equation boosted Lake's support to 3%. However, that wasn't enough to catch up with her potential Democratic rival, who received the support of 43% of the survey participants.
Lake's biggest issue stems from the state's Independent voters. According to Mike Noble, the Chief of Research at OHPI, "being liked is half the battle." He added that in order for Lake or "any potential candidate" to get the best chance of winning, is to gain more support from "Arizona's influential Independents."
~Here's to Our Liberty!
Copyright 2023, LibertySons.org