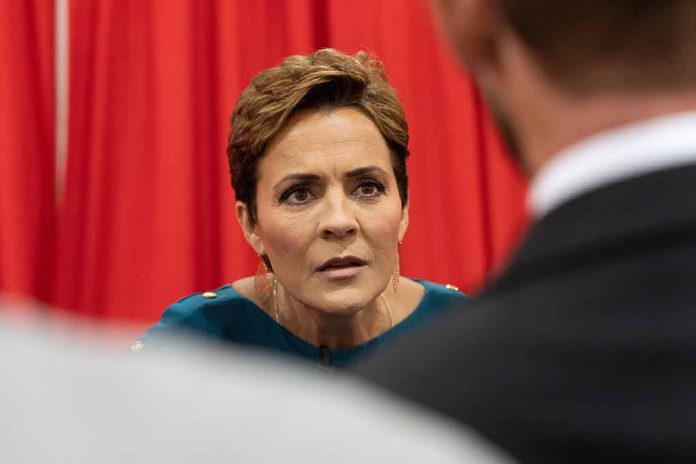 (LibertySons.org) – President Joe Biden marked the 22nd anniversary of the 9/11 attacks at Joint Base Elmendorf-Richardson in Anchorage as he returned from the G20 summit in India. In a speech at the base, Biden recalled standing at ground zero in New York the day after the September 11, 2001 attacks. He said, "I felt like I was looking through the gates of hell." In a tweet, former Arizona GOP gubernatorial candidate Kari Lake bashed the president for "lies, plagiarism, and grotesque distortions of his past" in a bid to virtue-signal his "empathy" for 9/11 victims.
Fact-checkers from media outlets across the board noted there was no record of Biden visiting the site of the fallen World Trade Center Towers in New York City on September 12, 2001. However, an anonymous White House source confirmed that the then-Senator visited the site on September 20, 2001, with a bipartisan delegation for the first time after the attack.
Conservative critics also noted it was the first time an American president had failed to attend the memorial at the White House or one of the attack sites, including the site of the fallen World Trade Center Towers, the Pentagon, or the Shanksville, Pennsylvania, field where a failed plan to strike the White House ended after passengers heroically overpowered hijackers. Fox Host Jesse Watters tweeted a clip of his Biden critique. He argued that the incumbent can no longer perform the duties of the presidency, even the ceremonial duties, like showing up at a 9/11 memorial commemorating the loss of thousands of Americans whose families still grieve them.
As Lake pointed out in her accusation, Biden has a knack for revisionist history as it suits his agenda. He remembers things that never were or, perhaps, as he wishes they had happened. In any case, the president has made several false claims in the past month.
He claimed to have watched the Pittsburgh bridge collapse. However, it occurred while he was still in Washington, DC, in the White House.
He claimed he was born in the same hospital where his grandfather died just days before, except his paternal grandfather died more than a year before in another state.
He repeated a story about a conversation with Amtrak conductor Angelo Negri, but the timeframe corresponds to a period after Negri had retired and died.
He has repeatedly said he lost his oldest son in Iraq. While Beau Biden did serve for about a year in Iraq beginning in October 2008, he died of cancer in May 2015 at Walter Reed National Military Medical Center in Bethesda, Maryland.
Critics argue that Biden's misstatements and seeming inability to represent the nation during important ceremonial events should disqualify him from considering a future run.
~Here's to Our Liberty!
Copyright 2023, LibertySons.org15