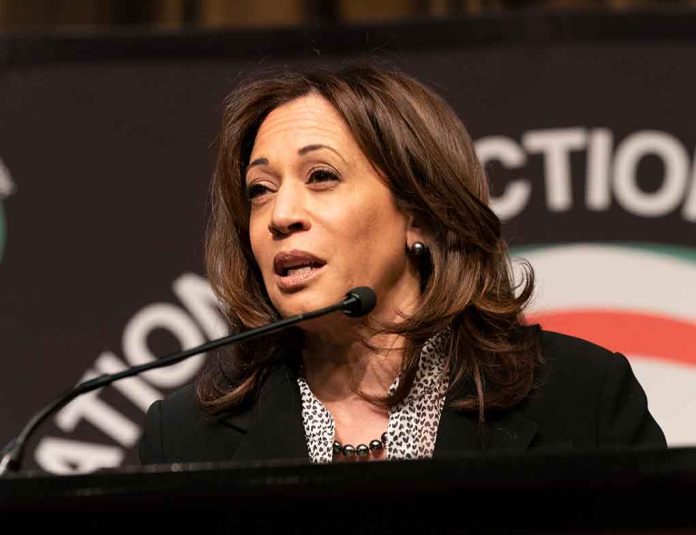 (LibertySons.org) – Rumors continue to swirl about chaos in Vice President Kamala Harris' office. Insiders say she doesn't get along with President Joe Biden, which causes a ripple effect throughout the White House. While these stories remain unconfirmed, one staffer recently shared inside information that makes the high turnover in her office difficult to ignore.
Staffers Flee from Harris
Multiple people working in the vice president's office are leaving their jobs, including Communication Chief Ashley Etienne and Chief Spokesperson Symone Sanders. These two high-profile individuals recently opted to walk away from Harris.
Sanders has gushed about the VP in the past through various communication platforms yet still chose to depart. The Spokeswoman says her job was frequently harrowing, but her departure isn't a result of Harris' transgressions or unhappiness with the position.
Etienne left to seek other options for employment.
Karly Satkowiak and Gabrielle DeFranceschi both left Harris' office in recent weeks. Official statements indicate the pair planned their departure rather than deciding to go suddenly. An unnamed source told the Washington Post DeFranceschi left because she wasn't happy with how staffers run the office; DeFranceschi did not make a statement herself.
An Office Falling Apart
Fox News reports that staffers fear they will damage their careers by working for Kamala Harris. Low polling numbers and constant rumors exacerbate the issue.
Harris' office continues to engage in damage control in response to these concerns even though she has not yet served a full year in the position. Even her visit to the southern border was chaotic, as she failed to alert her staff.
The VP's office has also been forced to combat reports that Harris frequently ignored and criticized her own staffers. Interviews with current and former workers reveal that the VP often refused to take responsibility for her actions, blaming those around her instead.
Politico spoke with one whistleblower who called working for Harris abuse. It seems at least some of her people are unhappy, and that kind of environment is detrimental to everyone.
Supporters Fire Back
Supporters of the Vice President continue to push aside these rumors by saying Harris has it more challenging than anyone because she's a woman of color. They say people hold her to different standards, which adds more stress and strain, and that departures are standard in politics rather than a sign of distress within the administration.
Both sides have their own take on this unique situation, but one fact remains persistent throughout: workers are leaving Harris' office for some reason. Could this be a sign of doom for her, should she choose to run for the presidency in 2024?
~Here's to Our Liberty!
Copyright 2021, LibertySons.org