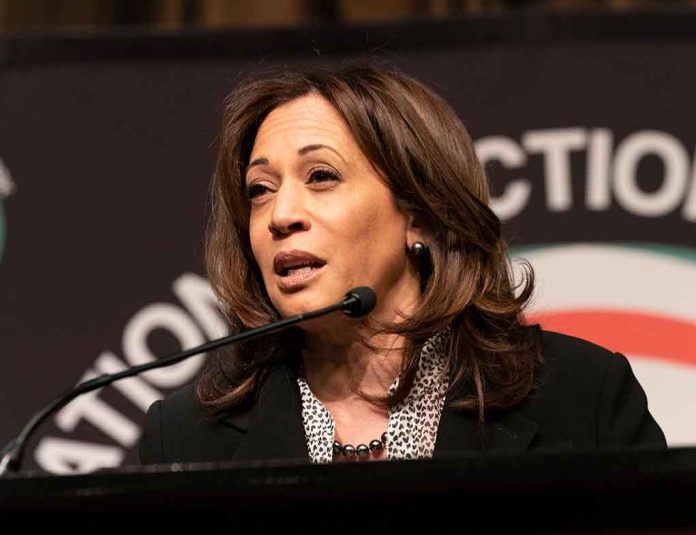 (LibertySons.org) – The recent mass shooting in Nashville, Tennessee, has sparked renewed debate and sowed division among many of the state's residents. Many Democrats have called for stronger gun laws, while Republicans continue to hold the position that owning guns is a constitutionally protected right. Vice President Kamala Harris recently met with three lawmakers that joined a group of individuals protesting at the state's capitol building.
On March 30, three Democratic lawmakers, Representatives Gloria Johnson, Justin Jones, and Justin Pearson, joined protestors on the house floor after they stormed the Tennessee Capitol. The trio, dubbed the "Tennessee Three," took the podium in the state's House and stirred up the crowd of many schoolchildren with a megaphone. Their Republican colleagues voted to oust Jones and Pearson. Johnson narrowly escaped a similar fate by only one vote.
Kamala is just happy someone wanted to meet with her https://t.co/aQ5CHs5Jhq

— Daily Caller (@DailyCaller) April 10, 2023
The vice president met with the three disgraced Democrats in private on Saturday, April 8. Before the meeting, Jones, Johnson, and Pearson had spoken with President Biden over a conference call. CBS News reported that the president thanked them for "standing up for our democratic values" and their "leadership in seeking to ban assault weapons."
Harris, who was speaking at Fisk University, a historically Black college, claimed Republicans were attempting to silence the "Tennessee Three" for pushing for a safer environment for school children. The vice president warned Americans to "not fall for the false choice," explaining that many feel you're against the Second Amendment if you advocate for gun laws. Harris asserted that America "can and should" protect gun rights and the nation's children as she called for red flag laws, background checks, and restrictions on assault rifles.
Republicans have defended their decision by claiming they were making an example to others that such behavior wouldn't be tolerated in the Tennessee legislature. However, ousting lawmakers is a move that is rarely seen and has only been used a few times since the Civil War.
UPDATE: In a stunning move, the Nashville City Council voted unanimously to temporarily reappoint Jones on Monday, April 10. He reassumed office later that day. Likewise, Memphis is expected to return Pearson to his duties in the state on Wednesday.
Since the state House formally expelled Jones and Pearson, both men face a special election later this year.
~Here's to Our Liberty!
Copyright 2023, LibertySons.org