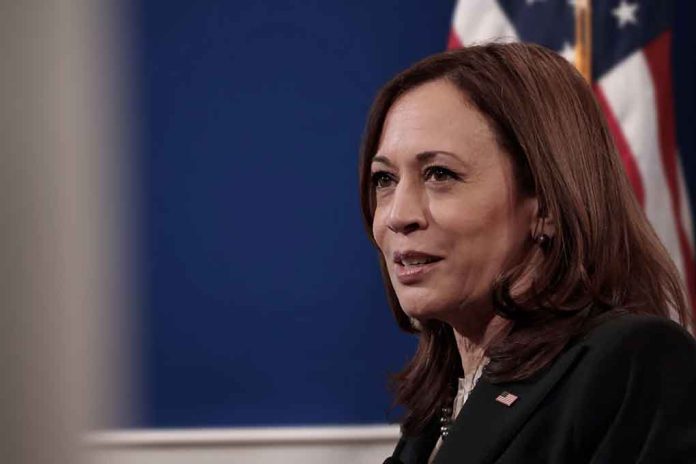 (LibertySons.org) – Vice President Kamala Harris spoke with the press on February 20 about her trip to the Munich Security Conference. As expected, reporters began questioning her about the situation with Russia and Ukraine, which seemed to trip up the official. Only a few days later, and her contradiction appears even more out or touch; the Kremlin outlined its case for action in Ukraine just yesterday.
Harris stumbled when a reporter began asking what leverage the United States had over Russia. After the Biden administration expressed suspicions that Russian President Vladimir Putin had already made up his mind about invading Ukraine, a reporter asked the vice president why they weren't issuing penalties immediately. Harris stated sanctions were leverage for the United States, and the threat of them would help to deter Putin from taking action. But the speech made by Russian President Vladimir Putin yesterday seems to indicate that her faith in the threat of sanctions is misplaced.
Harris Claims Sanctions Could Deter Putin From Invading Despite Claiming He's Already Made Up Mind https://t.co/GH3MaZ7fC2 pic.twitter.com/Yl8tYp4v8l

— Daily Wire (@realDailyWire) February 21, 2022
The reporter presciently doubled down, inquiring how the continued warnings would have any power when the administration said Putin was already going to move ahead with an invasion. Harris stuck to her talking points, assuring that these are strong sanctions that will deter the Russian leader.
And now, Russia has laid out its case and its intentions to act in Ukraine. With Harris clearly mistaken about the effectiveness of the Biden administration's strategy of sanctions, the world holds its breath as the West watches Russia reclaim territory it has been warned against encroaching on.
US and NATO forces have been preparing for this kind of situation. And we'll soon see what they've been planning.
~Here's to Our Liberty!
Copyright 2022, LibertySons.org