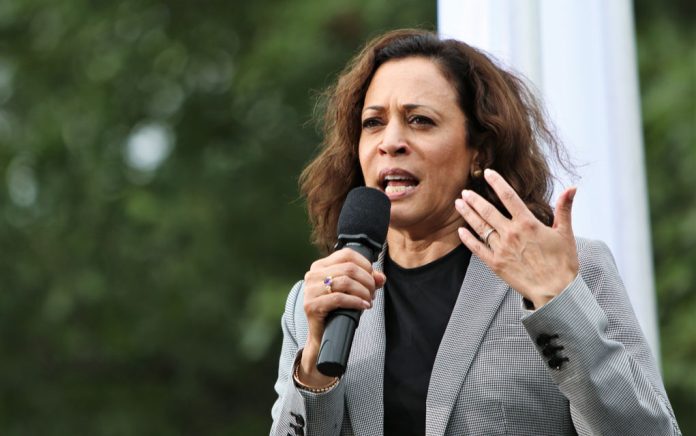 (LibertySons.org) – South Korea is an important ally to the United States. Recent meetings and discussions between the Biden administration and South Korean President Moon Jae-in have been essential to building this relationship.
During a recent meeting between Vice President Kamala Harris and President Moon, Harris committed an act so rude many people decided to call her out on it even though the mainstream media has yet to make a peep.
Kamala Harris insults the South Korean President Moon Jae-in by wiping her hand off after shaking his hand. #USA #SouthKorea #Democrats #KamalaHarris #MoonJaein #DiplomaticIncident #ForeignAffairs #Insult #Wipe #BadManners pic.twitter.com/h8bysZKeql

— Jobsen Groth 🇦🇺 (@JobsenGroth) May 22, 2021
Immediately after shaking hands with President Moon, Harris wiped her hand on her clothing. Various tweets talked about how disrespectful this gesture was. Respect is almost religious in Asian culture, and doing something like this to an influential leader of an Asian country is unbelievable.
Some tried to write it off as a germophobic move reflecting the current times, but nobody is buying that since the vice president has had both doses of the vaccine, and a hand wipe like this has never been an effective way to kill a virus.
Plus, this isn't her first rude act. Previously, she was shown multiple times not saluting military members when boarding Air Force Two. It seems discourteous actions are commonplace for Harris.
The operative question remains "Why isn't the MSM not saying anything?" If it was a Republican, they would have had a loud and fast response, most likely including claims of racism to get people outraged. This failure is a blatant display of the double standards that seem usual for the left-leaning news media.
~Here's to Our Liberty!
Copyright 2021, LibertySons.org