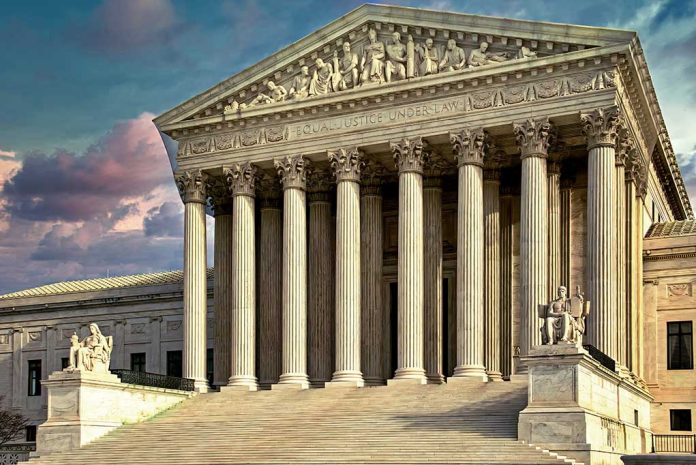 (LibertySons.org) – After the 2020 election, President Donald Trump filed lawsuits to challenge the results. Three of them went to the US Supreme Court for consideration. However, the Court doesn't hear every case that comes its way. The justices decide whether or not to take each one.
The last of the appeals the former president sent to the highest legal entity in the land, and the only one they hadn't denied, faced rejection on March 8. The reason behind the denial is unknown as the justices made no comment. Fox News' Chris Wallace tried to get to the bottom of it, but he faced very few answers.
The Facts
The last appeal Trump made to the Supreme Court was a challenge of the absentee ballots in Wisconsin. He filed the case two days after the certification of the results in the state.
The lawsuit questioned election policies, including the use of drop boxes. The issues before the judges were whether state and local officials violated the 14th Amendment and Article II, Section 1, clause 2 of the US Constitution during the election through the absentee voting rules. The petition asked the justices to rule the election invalid. A federal judge and a 7th US Circuit Court of Appeals previously rejected the former president's claims due partly to a deadline issue with filing the case.
The Denial
The US Supreme Court received the petition on December 30, 2020. The justices declined to hear the case on March 8. They didn't release any comments as to why they made that decision.
When Chris Wallace, host of Fox News Sunday, asked Justice Stephen Breyer on the September 12 show why they didn't take the appeal, the judge gave a vague answer. He explained the rejection was because court rules require at least four judges to vote to take a case and there were not four votes in favor.
Justice Breyer also explained the appeal must not have met the "normal criteria" required, but he didn't explain what that is. He also failed to offer any legal grounds for the rejection.
Previous Case Denials
The answer the judge gave isn't much of a clue as to the reasoning why the Court refused to hear arguments in this specific lawsuit, and previous Trump rejections were just as muddled. In a Pennsylvania petition prior to this one, the justices issued no comment again. Justices rejected another Wisconsin-based petition of the former president without any statements as well.
The silence of the highest court in the nation on the election issues is confusing, especially when the only answer a justice can give is one based on protocols and not actual law.
~Here's to Our Liberty!
Copyright 2021, LibertySons.org