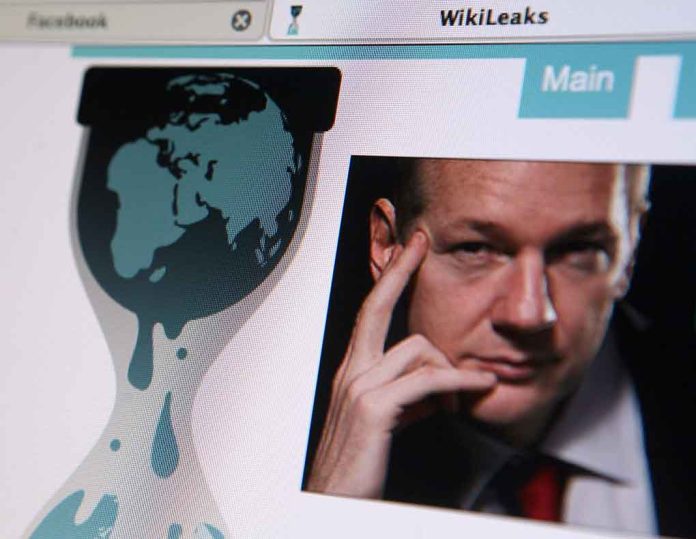 (LibertySons.org) – The US Justice Department has been targeting Australian WikiLeaks founder Julian Assange for years. He spent a significant amount of time hiding at an embassy in Britain while fighting extradition to the US. Now, the case is taking another strange turn.
Going to the Chapel
In a November 12 announcement via Twitter, Assange's fiancée Stella Moris happily told the world British prison officials granted the couple permission to marry.
Good news: UK government has backed down 24h before the deadline.

Julian and I now have permission to marry in Belmarsh prison.

I am relieved but still angry that legal action was necessary to put a stop to the illegal interference with our basic right to marry.#Assange pic.twitter.com/pevOrfsPzd

— Stella Assange #FreeAssangeNOW (@StellaMoris1) November 11, 2021
They will hold their wedding in the Belmarsh Prison in London, where the 50-year-old journalist currently remains. Moris said she hopes it will be peaceful without further interference.
Stella Moris is a Swedish attorney who served on Assange's legal team. The pair share two sons, Gabriel and Max.
She previously threatened to take legal action against British Justice Secretary Dominic Raab and Belmarsh prison chief Jenny Louis for failing to address requests for the marriage. Prison officials say the governor handled Assange's request in a standard way.
Case Background
Julian Assange founded WikiLeaks as a platform to allow whistleblowers to share information. He got into trouble when he used it to share confidential US intelligence documents about the wars in Iraq and Afghanistan.
However, when the US began showing interest in prosecuting the 50-year-old Australian for violating espionage laws, he was already facing trouble in Sweden. The country issued a warrant against him for rape charges in 2010.
To evade capture, Assange took shelter at the Ecuadorian Embassy in London, where he sought asylum to avoid extradition. He spent seven years there before Ecuador rescinded his status due to repeated behavioral issues during his stay.
In April 2019, after he lost his protection, British authorities took him into custody on the pending extradition requests. Sweden dropped its case in November 2019, but the US persevered.
In a blow to America's case, British Judge Vanessa Baraitser denied extradition because Assange told psychiatrists that he threatened to kill himself if sent to the country. Experts testified his mental health could not handle the solitary confinement he would face in the US.
The US Department of Justice appealed the ruling, hoping to convince the judge to allow officials to bring him to Virginia to face 18 Espionage Act violations. If he does come to the US and a court convicts him, he could face a life sentence.
Assange's fiancée may hope her life as a new bride will be calm, but with the US Justice Department working hard to deport the man, those desires may be in vain.
~Here's to Our Liberty!
Copyright 2021, LibertySons.org