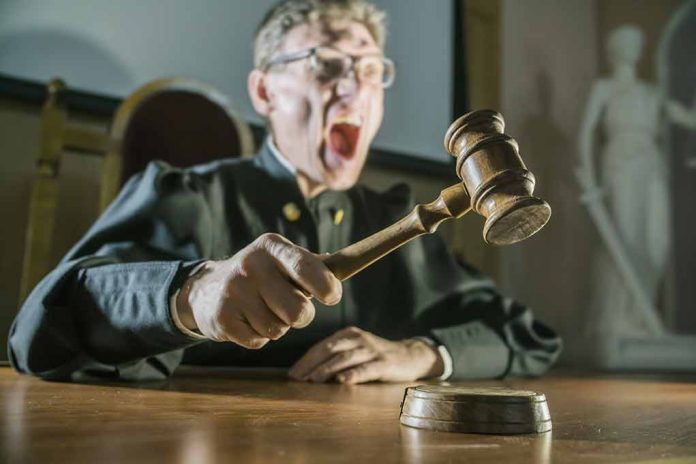 (LibertySons.org) – After sending notifications to the town of Lac du Flambeau and individual homeowners who lived along the roads, the Lac du Flambeau Band of Lake Superior Chippewa barricaded four byways on their reservation beginning January 31, 2023. Non-tribal residents who needed access via the thoroughfares filed a lawsuit in US District Court in the Western District of Wisconsin against the 12 individuals who comprise the tribal council. On August 15, US District Judge William Conley dismissed the case without prejudice because the plaintiffs lacked subject matter jurisdiction for the federal suit.
In his order, Conley provided background and explanations for his decision. The tribe built the four roads on the reservation before 1960. Sometime in the 1960s, the Bureau of Indian Affairs (BIA) granted 50-year right-of-way easements on the byways under the Indian Right-of-Way Act. All of the easements expired between 2011 and 2018. The tribe decided to assert authority over four roads in January 2023 to protect the sovereignty of their reservation
The town of Lac du Flambeau maintained the thoroughfares as public accesses. However, transferring the right-of-way easements to the city caused complex problems for people who purchased homes along the four roads inside the reservation. When the tribe reopened the byways on March 13 under negotiated temporary access agreements, the tribe issued a statement regarding what it viewed as long-term ongoing unscrupulous real estate practices that have compromised tribal sovereignty and cheated individual homeowners.
After the plaintiffs filed the suit, the tribe contacted the BIA about removing the roads from the National Tribal Transportation Facilities Inventory (NTTFI), part of the federal Tribal Transportation Program. BIA research found no public funding supported the tribe's construction of the thoroughfares, so the bureau removed them from the NTTFI. Consequently, the tribe motioned to dismiss the suit.
The BIA's removal of the roads effectively removed them from federal jurisdiction, and the court consequently lacked subject matter over which it held jurisdiction. None of the plaintiffs' other claims provided valid federal jurisdiction, and Conley granted the dismissal.
~Here's to Our Liberty!
Copyright 2023, LibertySons.org