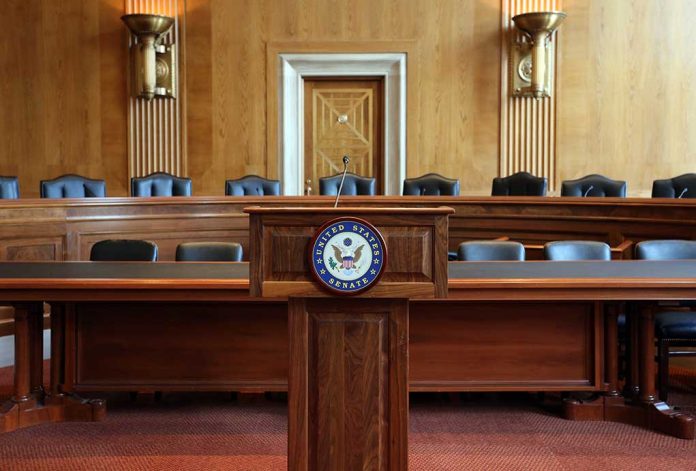 (LibertySons.org) – In a 53-47 vote on the Senate floor, the nomination of Judge Ketanji Brown Jackson moved forward to the final step in the US House of Representatives on April 4. The Senate Judiciary Committee was locked at 11-11 before the full Senate vote took place. As of Thursday afternoon, April 7, the Senate has confirmed the nomination along those same 53-47 lines, and Judge Ketanji Brown Jackson will become the first Black woman to sit on the court.
Despite unified opposition from my Republican colleagues on the Senate Judiciary Committee, Judge Jackson has secured support from some of my other GOP colleagues as we move toward a final confirmation vote. https://t.co/M1yLJyVUt9

— Alex Padilla (@AlexPadilla4CA) April 5, 2022
The Senate vote raised a bit of drama. The divide was largely by party, with all Democrats voting in favor of Jackson. Three GOP members crossed the line to vote with the other side. Republican Senators Lisa Murkowski (AK) and Mitt Romney (UT) decided at the last minute to join Senator Susan Collins (R-ME) to approve Jackson as the 116th Associate Justice of the United States Supreme Court.
With rules requiring only a simple majority for confirmation, the vote meant that Jackson needed only 51 votes to be confirmed. Republican objections to what they felt was Jackson's history of handing down light sentences in child pornography cases threatened Jackson's nomination. The light on crime stance, especially involving child predators, had been a sticking point for the GOP throughout her confirmation hearings.
Supreme Court Justices serve for life. With Jackson's seemingly Liberal views, her confirmation could mean more struggles for Conservative rulings in the future as the next Supreme Court term, begins later this year.
~Here's to Our Liberty!
Copyright 2022, LibertySons.org