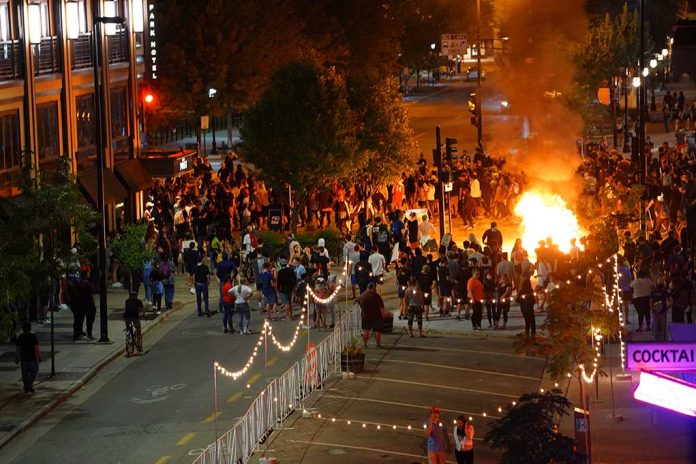 (LibertySons.org) – During the summer of 2020, riots and protests led to damage across the country. While there were also peaceful demonstrations, the violent incidents got the most headlines.
One of the most notorious events occurred after August 23, when Wisconsin police shot Jacob Blake. Then 17-year-old Kyle Rittenhouse got into altercations that led to the deaths of two men and the injury of another. Now the teen is back in court, with the judge making several rulings that will undoubtedly impact his final trial.
The Shootings
On August 25, Kyle Rittenhouse allegedly shot to death Anthony Huber and Joseph Rosenbaum and also wounded Gaige Grosskreutz in Kenosha, WI. The teen from Antioch, IL, claimed he was present to help protect businesses and keep people safe.
He now faces charges for first-degree murder, attempted murder, recklessly endangering safety, and possession of a dangerous weapon by a minor. Rittenhouse claims self-defense.
The New Rulings
On September 17, Kenosha County Circuit Court Judge Bruce Schroeder struck down the prosecution's use of an argument alleging Rittenhouse was affiliated with the right-wing group the Proud Boys. Assistant District Attorney Thomas Binger wanted to use evidence to show the teen was in a bar with members and met with the national president after his release from jail.
The district attorney's goal is to paint a picture that the teen holds white supremacist ideas. The judge said the angle was too political, and he would not allow the trial to become a matter of politics.
He also ruled not to let attorneys bring up an incident of a fight before the shootings in the prosecution's attempt to paint Rittenhouse as violence-prone. Regarding a video of Rittenhouse saying he wanted to shoot people he thought were looting a pharmacy, Judge Schroeder deferred but said he would lean to exclude the evidence.
Setting a Fair Trial
The judge's ruling comes after Corey Chirafisi, the teen's attorney, objected because none of the prosecution's arguments had a connection to the events at hand. He also noted the men he shot were white, so there are no grounds to claim racism. The judge limited the defense's arguments as well.  During the proceedings, the defense requested to use the idea that Rosenbaum tried to take the rifle from the teen. However, the judge refused because the man was a sex offender who could not legally have a firearm in his possession.
Rittenhouse's team also requested the dismissal of the underage firearm possession charge and asked for an allowance of a police use-of-force expert testimony. Judge Schroeder deferred those requests, setting the next hearing for October 5. The trial date is November 1.
~Here's to Our Liberty!
Copyright 2021, LibertySons.org