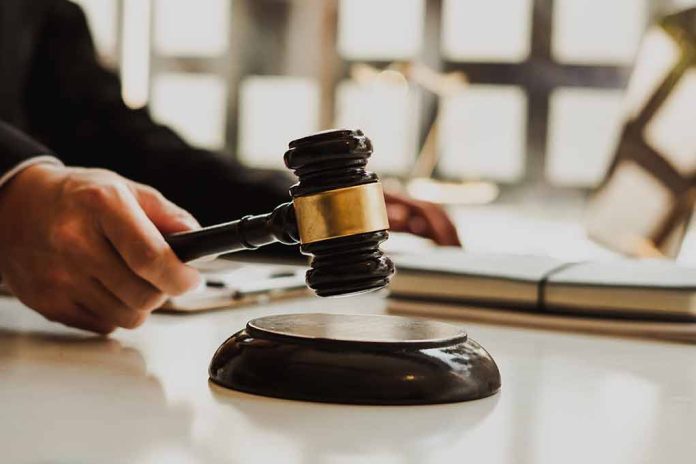 (LibertySons.org) – The Biden administration filed suit against Texas Governor Greg Abbott (R) on July 24 in the US District Court in the Western District of Texas to force the removal of a barrier spanning a section of the Rio Grande. On August 1, US District Judge Robert Pitman transferred the case to US District Judge David A. Ezra. The judge also inherited a motion from the administration, opposed by the state, requiring a ruling. On August 22, Ezra assured lawyers for both parties of his impartiality amid a charged political climate.
Ezra told the attorneys, "This is a United States district court. It's not Congress. It's not the president." He made clear he wouldn't entertain political commentary from either side regarding his decisions.
Abbott launched Operation Lone Star (OLS) to proactively deal with the immigration crises at his state's southern border after he claimed the Biden administration failed in its sworn duty to protect the nation's sovereign borders. One of the most recent actions OLS has taken included the deployment of a 1000-ft buoy barrier in the middle of the Rio Grande at Eagle Pass anchored by nets attached to 3000-pound concrete blocks and covered in razor wire to prevent migrants from crossing the river to seek entry into the US.
The Justice Department (DOJ) requested that Ezra prohibit the state from erecting additional barriers while he decides the case and further asked that he order Texas to remove the existing barrier based on the federal government's likelihood of conducting a successful claim on the merits.
DOJ and Texas attorneys argued the merits of the case, and the DOJ used expert testimony from the U.S. Army Corps of Engineers, the State Department, and the International Boundary and Water Commission. Governor Abbott testified, and Texas General Counsel Patrick Sweeten argued the state's case. However, true to his word, Ezra stopped Sweeten in his tracks when he tried to use political rather than legal arguments at one point.
The judge asked both parties to submit their final arguments regarding the injunction by August 25 and said he'd make a ruling as quickly as possible to allow the suit to continue. However, he emphasized, "Somebody is going to be happy; somebody is going to be unhappy with my decision. That's a fact of life."
~Here's to Our Liberty!
Copyright 2023, LibertySons.org