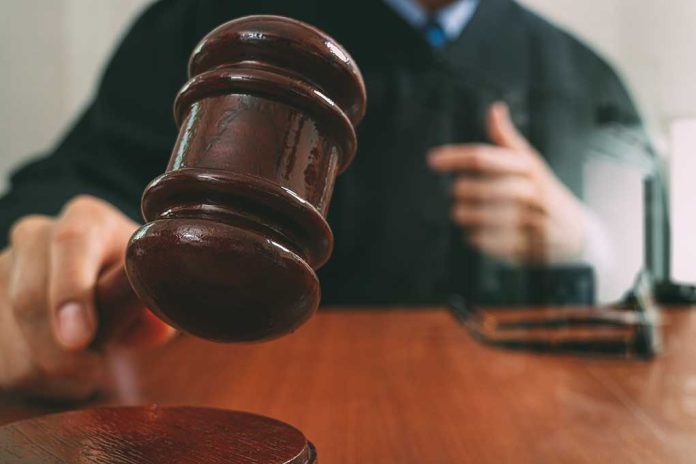 (LibertySons.org) – Former President Donald Trump is at the center of multiple investigations, including his mishandling of classified documents and allegedly paying adult film actress Stormy Daniels money to keep her quiet about an affair that Trump claims never happened. The former president's legal team recently asked the judge presiding over the hush money case to not silence Trump.
The former president is currently facing 34 felony counts of falsifying business documents during his presidential campaign in 2016. The prosecution claims Trump faked the records to cover up the hush money he allegedly paid Daniels to keep her from going public about an affair she claims the two had in 2005.
Trump lawyers urge judge in hush-money case not to 'muzzle' their client https://t.co/P61epXaGIJ

— John Lounsbury (@jlounsbury59) May 2, 2023
According to The Hill, prosecutors in Manhattan have requested that New York Supreme Court Justice Juan Merchan issue a protective order that would prohibit Trump from sharing details of the case with the public, effectively keeping them confidential. However, the former president's legal team is against the idea.
Trump's lawyers claim the protective order would be an "extraordinarily broad muzzle" on their client, calling him a "leading contender" in the presidential race. The former president's legal team advised the court that placing a protective order on their client would violate his "constitutional right" to effectively campaign and make his case to the "American people" as to why they should elect him to be president.
The prosecution claims they want the protective order in place due to Trump's history of attacking Daniels and his former personal lawyer Michael Cohen. However, the former president's current legal team countered that notion, explaining that while Trump has previously attacked Cohen and the adult film star, they have also lashed out at him in books they authored and during appearances on media outlets and news programs.
Trump's lawyers also claimed their client would be unable to address the allegations on the campaign trail, adding the protective order unfairly targets the former president and doesn't apply to all the parties of the case, like the prosecution team or prospective witnesses.
~Here's to Our Liberty!
Copyright 2023, LibertySons.org