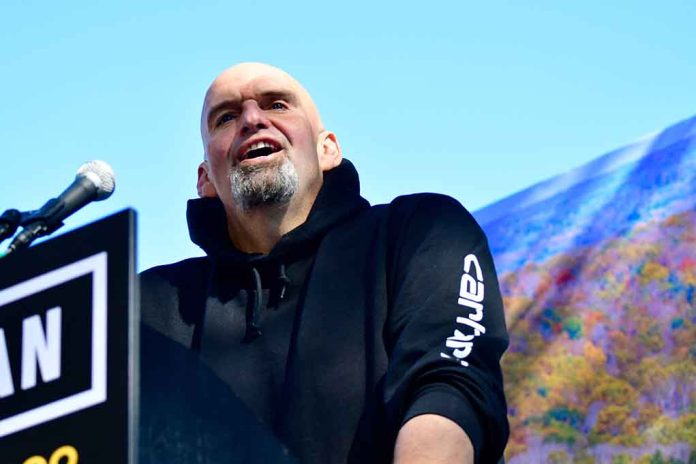 (LibertySons.org) – There's a time for jokes, and there's a time when things need to be taken seriously. Senator John Fetterman (D-PA) seemed to have mixed the two with a recent video in which he addresses a conspiracy theory about himself. However, while he was trying to be lighthearted about the situation, Fetterman's clip only added fuel to the fire.
Fetterman posted the 31-second video on his Twitter account on April 18. The Democrat claimed he was back at work and "feeling great, 100%." Moving on, he noted that during his two-month hiatus in the hospital, the "fringy fringles" spread the false rumor that he was using a body double.
Thought it was time to address the rumor: I do not have a body double. pic.twitter.com/dndGUt9OK7

— John Fetterman (@JohnFetterman) April 18, 2023
A stern-looking Fetterman said those rumors were "not true" and that the conspiracy theories are "just crazy," he looks off camera as it cuts to show the senator walking through the door, seemingly pretending to be a body double. The clip appears to show him speaking with the real Fetterman, asking him about an event he's supposed to attend. Fetterman may have just been trying to make light of a bad situation, but it just made things worse, gauging by the number of critical comments on his tweet.
The Democrat had suffered from a stroke on the campaign trail, which has led many to be concerned about his mental health and his ability to fulfill his duties as a senator. A short time later, his office announced that he had checked himself into a hospital due to a serious bout of depression.
The Hill reported that despite the growing concern surrounding his health, Fetterman remains optimistic. The senator took to social media in another post to express the joy of being home and his excitement to return to his duties as a husband and father. Fetterman added that he looks forward to being the "senator Pennsylvania deserves," noting that voters have had his back and that he intends to return the favor.
~Here's to Our Liberty!
Copyright 2023, LibertySons.org