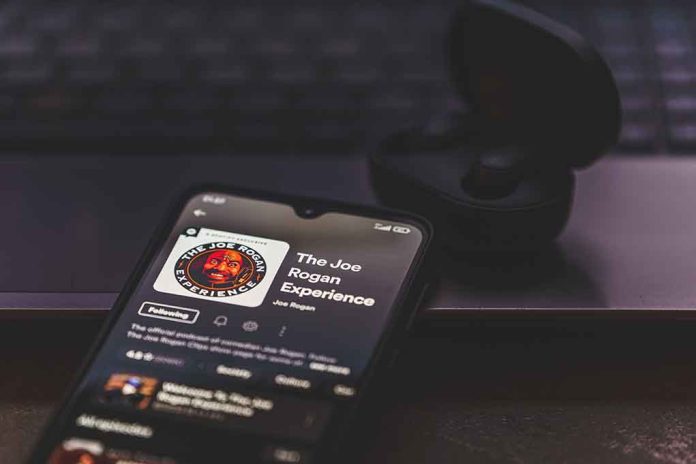 (LibertySons.org) – On a recent broadcast, media personality Joe Rogan spoke about transgender swimmer Lia Thomas. On the March 31 airing of The Joe Rogan Experience, the host called the swimmer's participation in collegiate women's swimming an "assault on women's sports." He said he couldn't imagine anyone thinking the situation was fair. Rogan further noted Thomas did poorly on the men's team for years but excelled on the women's team. He took that as proof of the unfair advantage.
Joe Rogan said Lia Thomas, the biological male swimmer who placed first in the NCAA women's 500-meter freestyle race, is an "assault on women's sports." https://t.co/cMoG1ZPMvX

— Breitbart News (@BreitbartNews) April 2, 2022
Lia Thomas is a transgender swimmer who performed on the men's team for three years. The athlete switched to the women's team after transitioning and now ranks in the number one spot for females.
Rogan said maybe that success is due to "becoming her true self." Still, he noted that the swimmer's personal victories don't take away the frustration and hurt biological women and girls may feel when biological men or boys come into their sports and dominate. He reiterated that it's not fair, and woke culture needs to recognize the issue.
He said outlier excuses don't work in this case. Lia is a biological male, and that gives the competitor an edge. He explained that it is okay to accept transgender individuals and let them live their lives in all other areas of life. But, Rogan implored, it's different in sports. He said there are male and female divisions for a reason.
Rogan also mentioned how it's ironic that the Left is supporting Thomas. He said they always root for equality and fairness, but now they cheer for someone with a clear advantage. The podcast host explained he also feels that allowing transgender athletes to come into these sports and dominate them will harm the transgender movement and make people less supportive.
~Here's to Our Liberty!
Copyright 2022, LibertySons.org