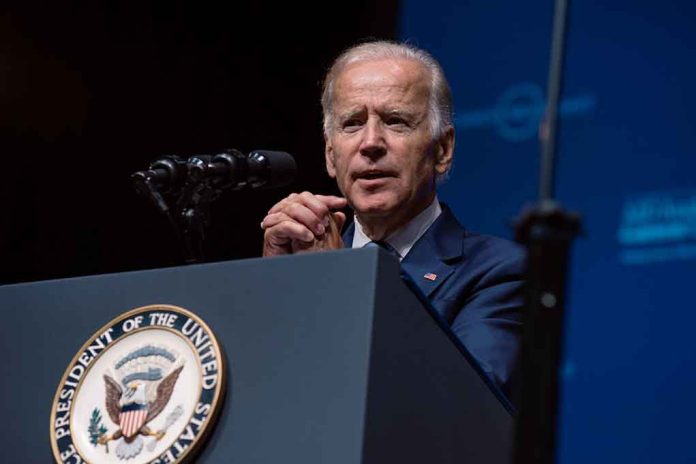 (LibertySons.org) – President Joe Biden recently made headlines at a fundraiser for the Democratic National Committee (DNC). The commander-in-chief mocked his predecessor, Donald Trump, the former president's refusal to accept the outcome of the 2020 presidential election. During his remarks, Biden quipped that "finally, even Fox News is admitting I won," drawing laughs from the audience. While the president has not officially declared he is running for re-election, he has been clear that he intends to do so and has been looking at what his campaign could entail in 2024.
In his speech, Biden touched on the changes modern politics have gone through and expressed his belief that the American public is now more concerned than ever about the state of democracy. He also spoke about the importance of protecting Medicare, Social Security, and other federal programs while criticizing Representative Marjorie Taylor Greene (R-GA), whom he referred to as "the distinguished lady from the mountains of Georgia."
Biden Taunts Trump At Democratic Fundraiser: 'Finally Even Fox News Is Admitting I Won!' https://t.co/uAfzDTTeUh

— Mediaite (@Mediaite) March 14, 2023
The fundraiser, which was held at a private residence and attended by approximately 40 people, was expected to raise $1 million for the Democratic National Committee and the Democratic Grassroots Victory Fund. The president's speech was met with laughter and applause, and his comments about Trump's election defeat were seen as a playful jab at his predecessor.
Overall, Biden's speech was a mixture of reminiscing about past accomplishments and attacking his opponents. He spoke about his confidence in the American public and his belief that they are genuinely concerned about the future of democracy. The president concluded his address by noting there was a "lot we can do," adding that it can be accomplished fairly. He offered his thanks to those attending the fundraiser. According to Biden, their support not only allows him to "be in the game," but it also helps keep the DNC "in the game."
~Here's to Our Liberty!
Copyright 2023, LibertySons.org