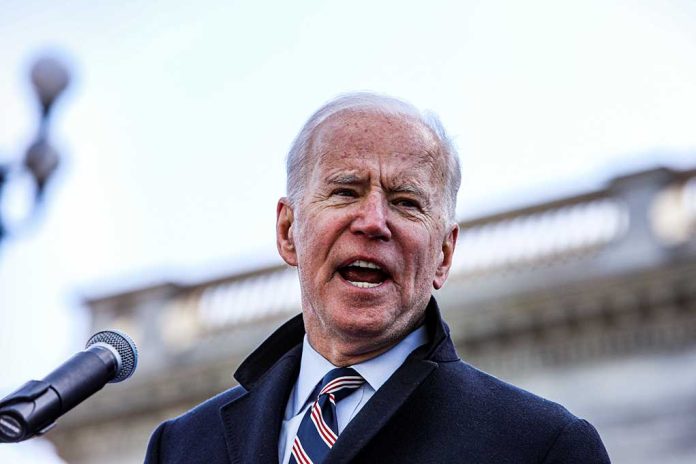 (LibertySons.org) – The administration of foreign policy is a balancing act between the US interests and those of its allies. Former President Donald Trump walked that fine line when he imposed trade tariffs against the European Union (EU) on steel and aluminum.
So far, President Joe Biden left those fees in place despite his pattern of dismantling many of the policies his predecessor put in place. Moreover, the EU has been unhappy with the tariffs ever since Trump enacted them in 2018. Those sanctions imposed tariffs of 10% on aluminum and 25% on steel imported into the US.
Biden is in Europe this week attending high-level meetings with global leaders. He spoke about the importance of renewed cooperation with Europe during a June 13 press conference. A reporter followed up and asked him how he justifies keeping the tariffs in place since America's European allies have expressed continued concern over them.
Joe, Give Me a Break, Biden has been given too many breaks by the press. Time to man up & own it.

'Give Me a Break' — Joe Biden Defensive After Keeping Donald Trump E.U. Tariffs https://t.co/3Lq1csJgt8

— Eric Miyamoto (@hiloboymiyamoto) June 14, 2021
Biden responded, "give me a break." He said it's only been 120 days into his presidency, and he needs more time. (Please note the president had been in office 145 days at the time, not 120 days.)
Perhaps Biden has a good reason to attempt to deflect that question. Biden may understand and support Trump's rationale for imposing the tariffs and want to keep them in place. After all, both the steel industry and the aluminum industry in the US have backed the measure.
It may be difficult for Biden to admit Trump was correct in light of the fact he has bulldozed his way through many of Trump's "America First" policies.
~Here's to Our Liberty!
Copyright 2021, LibertySons.org