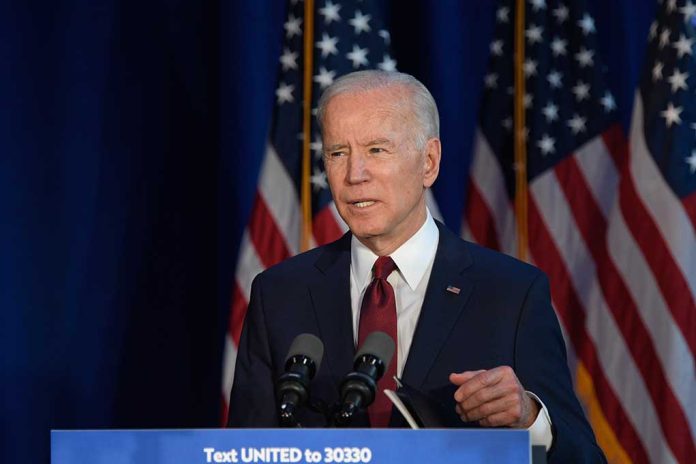 (LibertySons.org) – President Joe Biden's approach to securing the southern border and preventing illegal immigrants from crossing into the US has been lackluster at best. Even after passing off the mess to Vice President Kamala Harris, things have yet to get better.
There are record numbers of people entering illegally in the country via a border weakened by Biden's executive orders. As a result, governors in the border states feel they have to take matters into their own hands. Texas Governor Greg Abbott (R) is especially vocal in standing up for the security of his state, and his latest move shows he isn't afraid of going against the president.
A New Border Policy in Texas
On July 25, 2021, Governor Abbott revealed he adopted a new plan for handling illegal immigrants coming into his state. He said the current Biden administration policy of catching and releasing them isn't working.
Abbott said people are coming from areas with low vaccination rates and adding to the border crisis and the COVID rates of the state. He noted that Biden failed the people of Texas, and he's going to step up and protect them.
Abbott plans to capture and jail migrants flooding into the state without documentation using the Texas Department of Public Safety and The National Guard. He opened a former prison and created a new booking system to handle the expected influx of new arrestees.
With the Border Crisis Disaster Declaration in place, those captured will face enhanced penalties, which allow the state to hold them for up to 18 months.
Fighting to Protect the Border
The governor has been busy working to secure the border the last couple of months in the absence of decisive leadership on the mounting crisis from Biden administration officials. On June 10, 2021, Abbott and Arizona's Republican Gov Doug Ducey sent a joint letter to fellow governors asking them to send law enforcement assistance to secure the border.
Several Republican-led states stepped up to help, including South Dakota, Tennessee, Florida, Arkansas, Nebraska, and Iowa. The Biden Administration said no help is needed but said governors could do as they wish with their personnel.
Opposing the Biden Agenda
This new border security measure isn't the only time that Gov. Abbott has gone against President Biden's orders. On January 28, 2021, he issued an executive order to protect the energy industry in his state from the federal government. This action responded to the president's executive order ending the Keystone XL pipeline and creating new energy industry regulations that would cost Texans thousands of jobs. The order gives power to state agencies to challenge all federal policies threatening the energy industry.
The crisis at the border is nothing new, but when governors in states on the front lines are calling for help, it seems Washington should listen. Regardless, Gov. Abbott has taken a strong counter position to Biden's inadequacies, sending him a clear message that he will do whatever it takes to protect his state and people.
~Here's to Our Liberty!
Copyright 2021, LibertySons.org