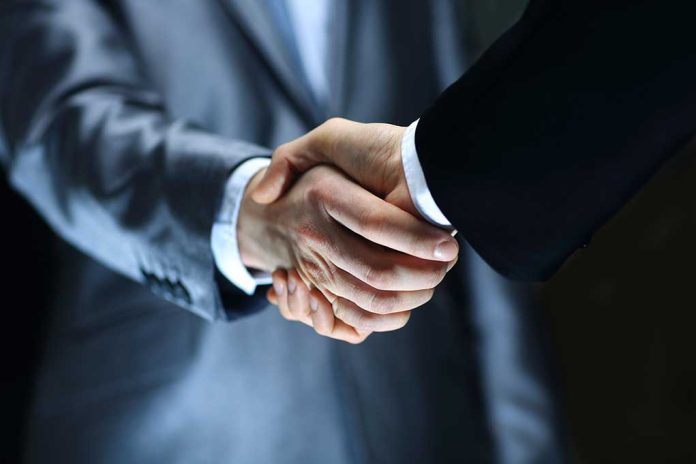 (LibertySons.org) – Author, analyst, and conservative pundit Peter Schweizer sat down with Fox News Channel's Maria Bartiromo for her "Sunday Morning Futures" broadcast on June 25 to talk about his reaction to the Hunter Biden WhatsApp text sent to Raymond Zhao of CEFC China Energy. As it happened, Schweizer had a bombshell revelation of his own to disclose based on his research of Hunter Biden's laptop. The author alleged that then-Vice President Joe Biden used a secret global cell phone that his son Hunter's firm paid for to communicate regarding family business.
Schweizer told Bartiromo, "We know from [Hunter Biden's…] laptop that [his] business paid for a private phone line." The AT&T global cell phone account incurred monthly charges of $300. The pundit suspected Hunter Biden gave his father the phone so he could speak with him about business deals, adding that "you could access somebody anywhere around the world" using the global phone technology.
Joe Biden was using a secret global cell phone while he was VP and it was paid for by Hunter Biden's firm that had connections to CCP. pic.twitter.com/rFRioJdw4o

— I Meme Therefore I Am 🇺🇸 (@ImMeme0) June 25, 2023
Accordingly, Schweizer, a founder and the president of the Government Accountability Institute watchdog group, provided the account information and phone number to the House Oversight Committee, encouraging them to subpoena phone records. The pundit suggested the Ukrainian Burisma executive who allegedly recorded his exchange with Joe Biden could have conversed using the global cell phone, for instance.
Beyond other considerations, a security consideration exists for high-level government executives using smart technology, even for personal purposes, according to a BBC article. Generally, security specialists discourage presidents, vice presidents, secretaries of state, and other cabinet members from using smart gadgets whenever possible because they're easier to hack, opening individuals and the US government to greater threats of compromised information or worse.
Schweizer also mentioned an espionage concern because many of Hunter Biden's Chinese business partners had connections to the Chinese Communist Party, potentially opening the door for espionage. At the very least, the information may provide House Oversight Committee chair James Comer (R-KY) with another lead to follow as he investigates potential crimes committed by Joe Biden's family while he served as vice president under former President Barack Obama.
~Here's to Our Liberty!
Copyright 2023, LibertySons.org