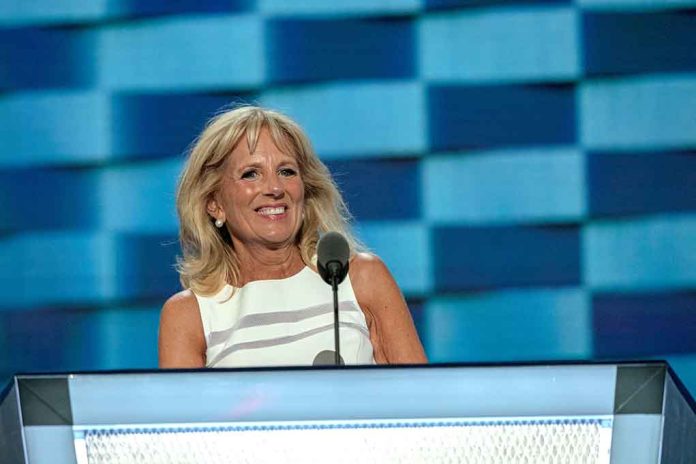 (LibertySons.org) – President Joe Biden recently gave his State of the Union address on February 7, but that's not what's making headlines. While some people were disappointed with many of Biden's talking points, there are many people more concerned about the First Lady kissing another man prior to her husband's speech. To top it all off, the man Jill Biden kissed was Doug Emhoff, who is married to Vice President Kamala Harris.
It looks like Jill kissed Kamala's husband on the mouth pic.twitter.com/qqrAG9Rqge

— Daily Wire (@realDailyWire) February 8, 2023
The First Lady made her way through the crowd before the speech began, greeting other attendees and shaking hands. When she finally got to her seat next to Emhoff, the two shared what almost appeared to be an intimate kiss on the lips, forgoing the typical kiss on the cheek that many people use to greet one another.
Following the awkward moment, Emhoff and Mrs. Biden continued holding hands as they sat down. The smooch quickly went viral on social media, with several people questioning the incident. Vice President Harris reportedly claimed she had not seen the video of the First Lady and her husband kissing.
Many were shocked and taken aback by the kiss between the second gentleman and First Lady. Cabot Phillips, a senior editor at the Daily Wire, asked if what unfolded was normal. Meanwhile, another user, Arthur Schwartz, wondered why the kiss happened in the first place.
Why did Jill Biden kiss Doug Emhoff on the mouth? #SOTU pic.twitter.com/bj3hqpwGAT

— Arthur Schwartz (@ArthurSchwartz) February 8, 2023
As for the president's State of the Union speech, he touched on several issues. Biden touted the number of jobs that have been added to the workforce since he took his oath of office, bragging about the country's economy. Meanwhile, Americans struggle with high fuel, food, and housing prices.
The president didn't waste the opportunity to criticize the healthcare system, claiming it's extorting people. Additionally, Biden declared it was time for the wealthy and corporations to stop taking advantage of the tax system and exploiting the American people and pay their fair share of taxes.
~Here's to Our Liberty!
Copyright 2023, LibertySons.org