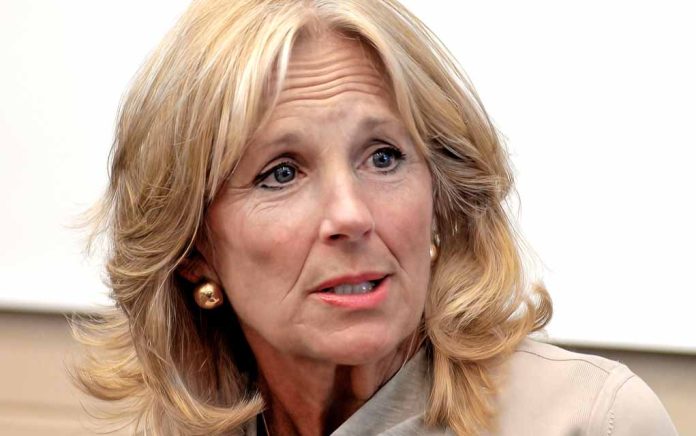 (LibertySons.org) – President Biden's wife, Jill Biden, recently traveled to Philadelphia to cheer the Eagles as they took on the San Francisco 49ers to claim the NFL's NFC Championship.
Announcers noticed the first lady in the crowd and called her "Dr. Jill Biden." Former Fox News host and media personality Megan Kelly took to her Twitter account in real-time to call out Biden.
Announcers for this Eagles-49ers game just spotted the First Lady in a box and of course call her "Dr. Jill Biden." Wonder if she realizes what a wannabe she looks like insisting on this fake title. Get a real MD or just work on your self-esteem.

— Megyn Kelly (@megynkelly) January 29, 2023
Kelly expressed disbelief at the game announcers' remark, writing that "of course [they] call her'Dr. Jill Biden." Continuing, Kelly wrote that she wondered if the first lady realized "what a wannabe she looks like" by insisting on using the phony title.
The disgruntled journalist also told Mrs. Biden, who earned her education doctorate in 2007 from the University of Delaware, that she needed to "get a real" degree as a medical doctor. The conservative host also told the First Lady to "work on" her self-esteem.
The former Fox News host's dismay on Twitter garnished praise and criticism from other users. However, the most-liked comments were the ones attacking the journalist. The host of the "Mueller She Wrote" podcast, Dr. Allison Gill, referred to Kelly as "jealous and petty."
PhDs existed before MDs. You sound jealous and petty.

— Mueller, She Wrote (@MuellerSheWrote) January 29, 2023
Another person noted that when they were in college, everyone called the professors doctors, and no one batted an eye. The commenter wondered why it was so important to Kelly to demean the first lady over her use of the term. Another critic mentioned the conservative's comments about Biden working on her self-esteem, quoting Shakespeare and claiming her dismay was over the top.
Tommy Vietor, a former staffer under the Obama administration, accused the former Fox host of "selective outrage." Vietor posted a screenshot of previous tweets from Kelly that showed her referring to Sebastian Gorka, deputy assistant to President Trump, as a doctor despite many academics doubting the veracity of his doctoral credentials.
~Here's to Our Liberty!
Copyright 2023, LibertySons.org