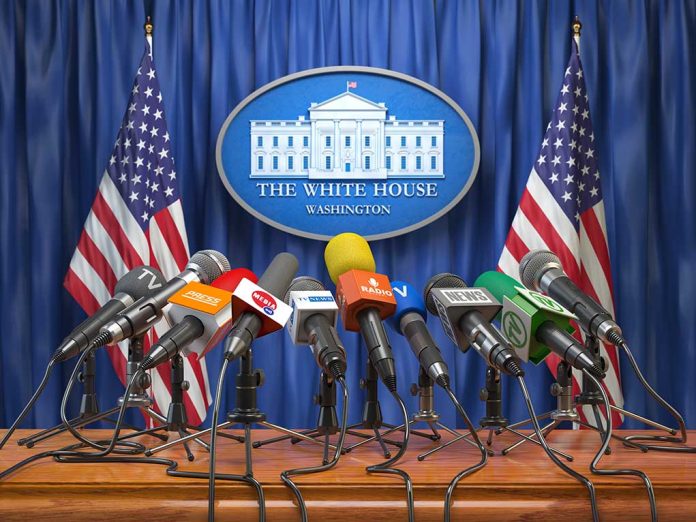 (LibertySons.org) – With many crises popping up in the first nine months of Joe Biden's presidency, White House Press Secretary Jen Psaki has had to be creative in how she answers questions relative to her boss' job performance. She recently dealt with a situation involving John Kerry that sent her into a tailspin.
On an October 4 broadcast on French TV, the special presidential envoy for climate John Kerry said Biden was unaware of France's anger (France withdrew its U.S. ambassadors) over the Australian submarine deal that Biden struck with Australia. The former senator said he had to explain the situation to the president because he had no knowledge of it.
In the daily press briefing on October 6, Reporter Peter Doocy asked Psaki for the truth behind Kerry's statement. Her initial approach was to claim the president knew the French were angry; however, the reporter interrupted her with a quote from Kerry saying the president "literally" had no idea about the situation.
Psaki Downplays Claim That Biden 'Literally' Didn't Know Situation With France: 'Not What' He Meant https://t.co/eFZzG749Nx pic.twitter.com/bh0tYPOlKb

— Daily Wire (@realDailyWire) October 7, 2021
In response, she tried to explain it away as Kerry merely relaying what he saw in his many interactions with the French country and was only giving his read, which, of course, the president would have no knowledge of. As Doocy continued to try to get a clear answer to his question, Psaki finally told him to speak with the former senator concerning his comments and suggested the reporter misunderstood what he'd heard.
The press secretary then moved the briefing on to other questions, abandoning the original inquiry. Had President Biden truly been in the dark about making France angry?  Many people are still waiting for an answer.
~Here's to Our Liberty!
Copyright 2021, LibertySons.org