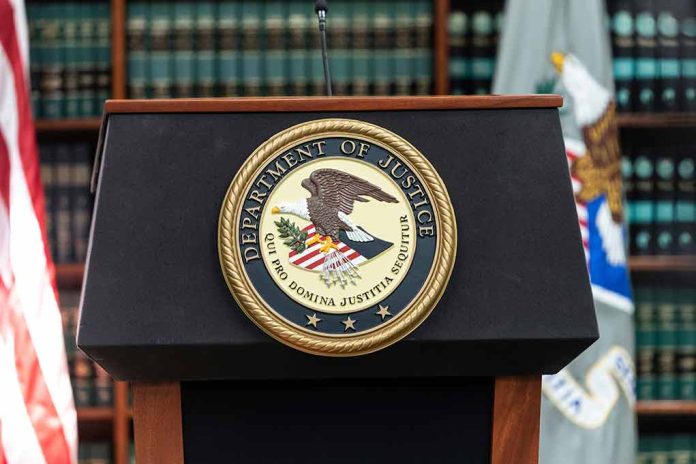 (LibertySons.org) – Unassuming. Quiet. Wonkish. Frugal. Thoughtful. Hard-working. Nerdy. Rumpled. These were all words friends, colleagues, and even many critics would have used to describe Jeffrey Clark before former President Donald Trump's recognized his abilities as a tactician, problem-solver, and advisor. Clarke attempted to use the power and influence of the Department of Justice (DOJ) to reverse the 2020 election results, making him a hero in the eyes of some in the GOP.
Clarke also appears to be the unnamed Co-Conspirator #4 referred to in the indictment handed down against Trump on Tuesday, August 1, by Special Counsel Jack Smith in Washington, DC. As the indictment described, Clark did meet clandestinely with Trump without Acting Attorney General Jeffrey Rosen's knowledge to advise him of several options he believed were open to the president.
One possibility he mentioned included writing a letter from the DOJ to Georgia and other targeted states where Trump questioned results. Clark drafted a proposed copy of the letter. Special Counsel Smith alleged the draft contained several false claims, including
Saying that the DOJ had found problems that might impact election outcomes in several states
Indicating that the DOJ believed that in Georgia and other states, two valid groups of electors gathered on the correct day at the correct place, and both forwarded sets of ballots to Congress for certification.
Urging certain state legislatures to convene special sessions to certify one set of electors (in primarily GOP-led states, the hope was that the special session would choose the fraudulent electors)
When DOJ leadership refused to consider sending the letters because they said allegations of election fraud were unfounded, Trump threatened to change leadership and install Clark as the new Acting Attorney General. In fact, on January 3, Trump offered the position to Clarke, and he accepted. However, after talking with other advisors who threatened to resign en masse if he followed through, the president reconsidered.
If Trump wins the 2024 election, several pundits believe he would name Clark to the Attorney General position.
~Here's to Our Liberty!
Copyright 2023, LibertySons.org