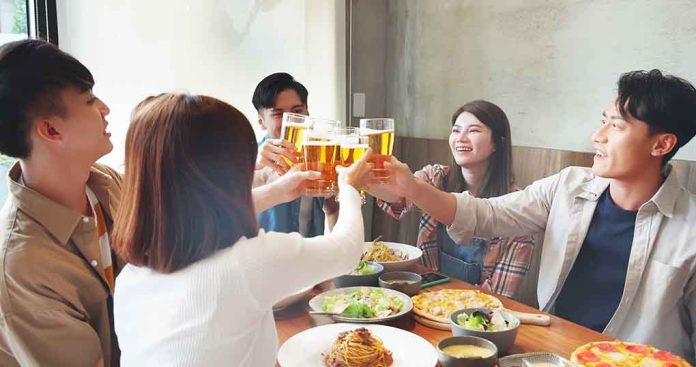 Government Responds To Drop In Alcohol Sales by Targeting Youth – Unreal!
(LibertySons.org) – After Japan lost about $813 million in tax revenue from the sale of alcohol in 2020 and noticed a continued decline, the government decided to launch a campaign to encourage more drinking. The National Tax Agency (NTA) hopes Sake Viva! will revive the population's desire to consume liquor. The contest encourages citizens to create plans to get the country's culture back on track.
Japanese officials, worried about a sharp decline in sin tax revenue, have launched the "Sake Viva!" contest to encourage young adults to help revive the nation's drinking culture. https://t.co/5a5TcUgWhB

— The Washington Post (@washingtonpost) August 18, 2022
Drinking in the nation started declining years ago, but it really went downhill during the COVID-19 pandemic. Restrictions that at one point banned or limited alcohol sales in restaurants took a toll. People also are eating out less, not frequenting bars as often, and questioning whether or not alcohol has a place in their lives.
There are some concerns about the contest from the nation's health ministry. Its officials don't want to promote excessive or irresponsible alcohol consumption.
Still, Japan relies on the sin tax it collects on sales for income, and the huge losses since 2020 are creating a burden. The NTA focused the Sake Viva! contest on residents between the ages of 20 and 39, who make up the bulk of consumers. Officials encourage entrants to come up with ideas that will get more people to drink. They have until September 9 to submit their concepts. The government will reveal the competition winner on November 10.
~Here's to Our Liberty!
Copyright 2022, LibertySons.org