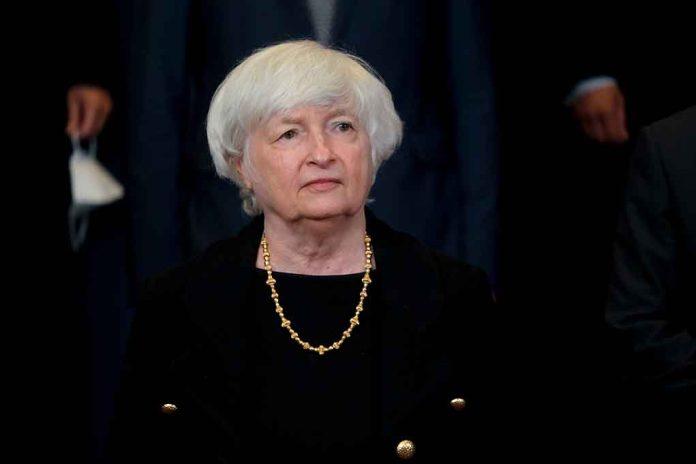 (LibertySons.org) – US Treasury Secretary Janet Yellen spoke at an Atlantic Council event on April 13. She implored China to help end the Russian hostilities in Ukraine. The secretary said the conflict is severely impacting the world economy, and China may play a "pivotal role" in influencing what happens moving forward.
Treasury Secretary Janet Yellen has sketched out her vision for a new era of economic cooperation, in a sweeping speech that laid down a stern challenge to China https://t.co/3lYOaRMg6h

— Bloomberg (@business) April 13, 2022
Yellen touched on how China has a "special relationship with Russia." She spoke of her hopes that the country's leaders would use this connection to help end the conflict. The secretary warned that it will become harder to keep economic and national security issues separate, indicating that if China fails to step up now, the action could impact its standing within the world's economy.
She said multiple times that the situation in Ukraine calls for international cooperation and stressed that if China acts now, it will gain much appreciation on the world stage. Yellen indicated that if officials don't make a move, the inaction could leave China standing alone in the future. She also expressed the desire to see the United States and China continue the mutually beneficial relationship they share.
Newsmax reported that it could not reach a spokesperson representing the Chinese embassy for comments on Yellen's statements. Officials did confirm they continue to do business with Russia, although they are not purposefully ignoring the enacted sanctions.
~Here's to Our Liberty!
Copyright 2022, LibertySons.org