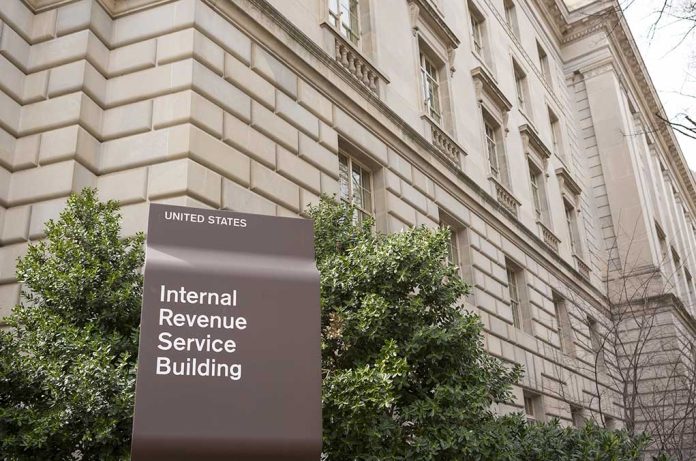 IRS Employees Caught Spending Government Funds on Luxury Goods
(LibertySons.org) – The Department of Justice announced on October 4 that five employees from the IRS face charges associated with cheating the system and taking money through illegal means under the Coronavirus Aid, Relief, and Economic Security (CARES) Act. The accused individuals allegedly falsified applications to scam funds under the Paycheck Protection Program (PPP) and Economic Injury Disaster Loan (EIDL) Program. In total, they tried to steal over $1 million out of the hands of Americans with legitimate needs.
Five IRS employees stole COVID relief funds to buy Gucci, trips to Las Vegas, Justice Department says | Fox Business https://t.co/GUiMo5zHov

— @Dltimber488 (@Dltimber05) October 5, 2022
The PPP and EIDL assisted small businesses struggling through the pandemic. The IRS employees stand accused of obtaining funds illegally and misappropriating the money they received for purchases outside the scope of each program.
Three of the individuals pleaded guilty to charges already and await sentencing. Fatina Hewitt received $28,900 which she spent on extravagant items and a trip. She admitted to one count of wire fraud.
Roderick DeMarco White II got $66,666 from the programs and spent it on luxuries. He also admitted guilt to one count of wire fraud. Tina Humes obtained $123,612 and used her stolen money for jewelry and travel. She, too, pleaded guilty to one count of the same charge.
Courtney Quinshe Westmoreland's case is ongoing. She allegedly received $11,500 and used it to pamper herself. The defendant also stole over $16,000 in unemployment. She is facing three counts of wire fraud.
The other outstanding case is for Brian Saulsberry, who prosecutors say stole $171,400 from the programs and mismanaged them to buy a car and invest. The man faces two counts of wire fraud and two counts of money laundering.
Sentencing in all matters has yet to occur. Wire fraud could carry up to 20 years in prison, and money laundering up to 10.
~Here's to Our Liberty!
Copyright 2022, LibertySons.org