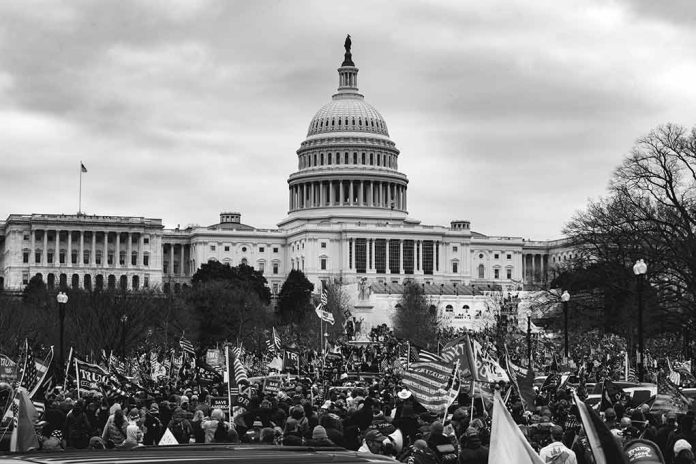 (LibertySons.org) – Senate Minority Leader Mitch McConnell (R-KY) warned House Republicans on September 19 that the GOP typically fares poorly politically after government shutdowns. After two major factions within the party seemingly reached a short-term compromise on September 17, internal disagreements are apparently challenging GOP leadership's efforts at preventing an impending government shutdown.
On Sunday, negotiations between Rep. Dusty Johnson (R-SD), chair of the Main Street Partnership Caucus, and Reps. Byron Donalds (R-FL), Chip Roy (R-TX), and Scott Perry (R-PA), officers of the far-right House Freedom Caucus, yielded a tentative agreement to offer a continuing resolution (CR) that would fund the government for 31 days — through October — while cutting discretionary spending by more than 8%. Additionally, it would attach the House GOP border security bill, HR2, with one exception: the provision wouldn't mandate using e-Verify.
I'm with Cory. No CR. Pass the damn approps bills. Roll back the crazy bureaucracy to pre-COVID levels. Now. https://t.co/6lWfWfdatc

— Rep. Dan Bishop (@RepDanBishop) September 18, 2023
Yet, no sooner had caucus leaders hammered out the details of the negotiated CR than naysayers began taking shots at the agreements. Rep. Dan Bishop (R-NC), a House Freedom Caucus member, tweeted his objection to a CR on Sunday, even before leaders announced the final deal. He echoed sentiments tweeted by Rep. Cory Mills (R-FL), who hasn't disclosed membership in the Freedom Caucus but holds many of the same values.
I have not yet seen final deal, but I'm hearing that a CR will be pushed for 30-Day extension that will include H.R. 2 Secure The Border Act (which I voted for) minus the E-verify, and more Ukraine funding.

If the House thinks adding HR2 which we DIRELY NEEDED sweetens the…

— Cory Mills (@CoryMillsFL) September 17, 2023
Given the slender margins between Republicans and Democrats in the House, Speaker Kevin McCarthy (R-CA) can only lose 4 Republican votes while hoping to pass the continuing resolution to avoid a government shutdown and the potential political upheaval it might entail.
Unfortunately, Rep. Marjorie Taylor Greene, a staunch ally and former Freedom Caucus member, doesn't plan to support the CR either. She tweeted her criticism of the proposed deal. Likewise, Freedom Caucus members Reps. Eli Crane (R-AZ), Anna Paulina Luna (R-FL), and Matt Rosendale (R-MT) all lodged objections to the CR.
On Tuesday, in response to internal party division and after a procedural vote where five Republicans voted with all Democrats against the CR, McCarthy pulled it from a scheduled Thursday floor vote.
~Here's to Our Liberty!
Copyright 2023, LibertySons.org