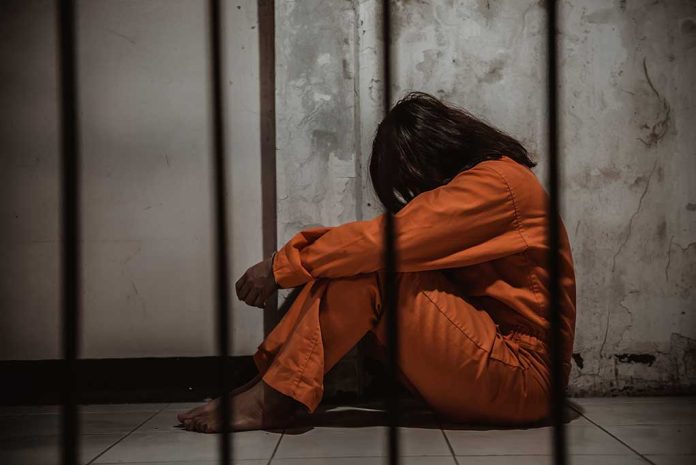 (LibertySons.org) – In October 2022, Shannon O'Connor, the "Party Mom" who is currently incarcerated in the Elmwood Correctional Facility in California, was reportedly the victim of an attack from five of her fellow inmates. O'Connor, 47, gained her notoriety due to the 39 charges against her, including facilitating illicit encounters between minors and procuring alcohol for them on multiple occasions.
According to court documents obtained by KRON4, Anita Quiroz, Erika Amaya, Danielle Chavez, Marjaana Gardea, and Sophia Vigil allegedly beat the 47-year-old. The five women didn't use weapons of any kind, and O'Connor reportedly didn't fight back. Deputies broke up the incident after 16 seconds. Authorities transported the 47-year-old to the hospital for treatment and then returned her back to the correctional facility.
Court documents reveal 5 female inmates allegedly attacked the Los Gatos "Party Mom" Shannon O'Connor in jail. The beating lasted 16 seconds before deputies broke it up. The 5 inmates will be arraigned for assault later this week. @kron4news pic.twitter.com/NlgPefzK5A

— Amy Larson (@AmyLarson25) March 6, 2023
The motive for the attack by the five inmates is unclear, and the women were arraigned in court on March 9 for one count of assault. O'Connor, on the other hand, faces a litany of charges and must remain in custody until her trial.
O'Connor allegedly communicated with the minors through Snapchat groups. The 47-year-old would host parties for them and buy them alcohol. While at these parties, O'Connor would reportedly encourage and watch inappropriate encounters between them. Additionally, some of the minors would puke and pass out from alcohol intoxication. Documents from the Santa Clara District Attorney's Office offer further detail into the allegations against O'Connor.
O'Connor has been behind bars since late 2021. A judge denied her bail in February 2022, citing the violent nature of her crimes. The court scheduled her preliminary hearing for March 6 but had to postpone it until April 17.
O'Connor's ex-husband described her as a "menace to society," mentioning she needs to remain incarcerated. The ex-husband added that his ex-wife has the "financial means" and is arrogant enough to "break the law again." After her arrest, Robert Amaral, O'Connor's current husband, reportedly filed for divorce.
~Here's to Our Liberty!
Copyright 2023, LibertySons.org