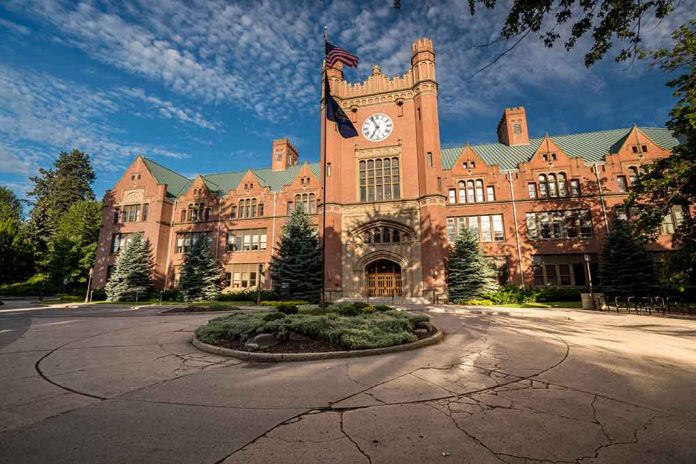 Sorority Sister Says Nothing Unusual about Night of Idaho Murders
(LibertySons.org) – During the early hours of November 13, an unknown assailant killed four young adults in their 20s in Moscow, Idaho. They were all students at the University of Idaho, staying in a rental off-campus. The murders rocked the small, close-knit town of around 25,000.
Another student, sorority sister Madison Moye, had seen two of the victims on the night of their murders. She said they looked happy and were having fun. Moye also noted tragedies such as this one were unheard of in their town, and she's fearful of future violence.
The Victims
The four slain students included a pair of best friends and a young couple. Kaylee Goncalves and Madison Mogen, both 21, were high school buddies who had remained close during college. They arrived home that evening using a rideshare service around 1:56 a.m., after going to a local bar and getting something to eat at a food truck.
Xana Kernodle and Ethan Chapin, both 20, were dating. Chapin didn't live in the house and was visiting that night. They had been at a fraternity party until about 1:45 a.m., and no one had reported anything unusual.
Details and Evidence
The murders happened in the second and third stories of the house. Two roommates on the first floor, Bethany Funke and Dylan Mortensen were unharmed and discovered their friends the next morning. The survivors returned home around 1 a.m.
Officials believe the crime occurred between 3 a.m. and 4 a.m. Goncalves tried to call her boyfriend multiple times, ending at 2:52 a.m., which helped with the timeline. Police said it is likely the suspect got in through a sliding door.
Unfortunately, there is a lot left unknown. Authorities have no motive, suspect, or murder weapon. They believe the killer may have used a "fix-blade knife."
In a press release on November 25, the Moscow Police Department revealed it had collected 113 pieces of evidence, 260 digital media submissions, and 4,000 photos from the scene. They'd also taken in over 1,000 tips and conducted about 100 interviews. Authorities tracked sales of knives in the days before the attack, went through nearby dumpsters, and investigated a possible stalker situation tied to Goncalves.
The police have ruled out some potential suspects, as well. Officers were able to clear the rideshare driver and Goncalves's boyfriend. A man seen with the best friends that night and the other roommates is also no longer under suspicion.
The Moscow Police Department asks that anyone with information contact them by phone or email or submit digital media through the FBI. Investigators are specifically looking for video recordings in the surrounding area from that night and tips on unusual people or actions at the locations where the victims had been. Authorities noted any detail could be significant and lead to solving the crime. The investigation continues with help from the Idaho State Police and FBI.
~Here's to Our Liberty!
Copyright 2022, LibertySons.org