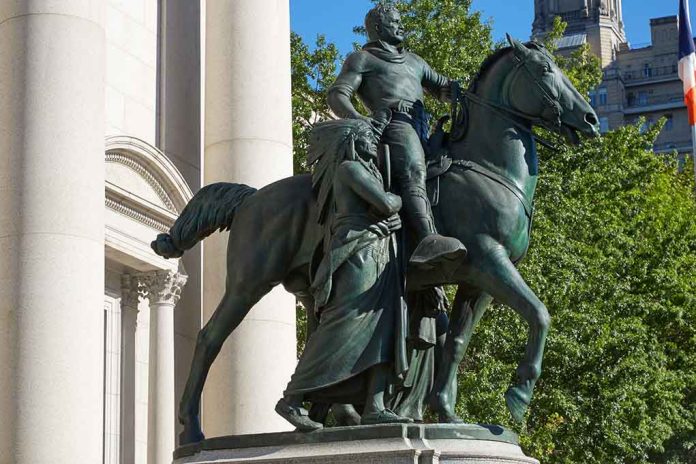 (LibertySons.org) – An iconic statue of Theodore Roosevelt once served as a landmark outside the American Museum of Natural History (AMNH) in New York City. Like many statutes, the riots that broke out across the country in 2020 quickly targeted its presence, campaigning to remove it.
Protests were organized that year during the summer to save the statue, drawing people from across the Northeast to rally behind the cause of preserving the historic American landmark. Counterprotests were organized by groups like BLM and Antifa to show their support for the statue's removal. Now, the debate over the statue has ended.
On January 19, the museum removed the 26th President's statute from its iconic location. They came in the darkness of night and took down an irreplaceable piece of history that had stood since 1939–another reminder of the American spirit taken while its people slept.
A statue of Theodore Roosevelt was removed overnight from its spot outside the American Museum of Natural History in New York City. The statue depicts Roosevelt riding a horse, as two nameless African and Native American men flank him on foot. https://t.co/KqLwUHcY6n

— The Washington Post (@washingtonpost) January 20, 2022
A statement on the AMNH's website shows that curators first asked for the statue's removal in June 2020. At the time, they cited concerns with its glorification of colonialism and racist undertones.
The bronze statue features a proud Roosevelt sitting on a horse while a Native American man and an African American man stand close by. It served as a tribute to the former president's conservation and naturalist work and was present in that location for over 80 years.
The removal cost a whopping $2 million. Curators will move the statute itself to a library in North Dakota. All that remains of its presence in New York City is the pedestal upon which it stood.
~Here's to Our Liberty!
Copyright 2022, LibertySons.org