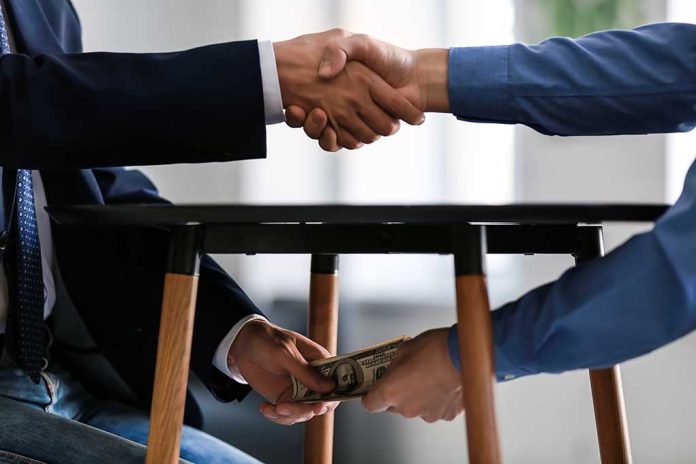 (LibertySons.org) – Hunter Biden is no stranger to scandals. It seems the son of President Joe Biden is not shy about living his life however he wants regardless of the consequences, and his new business dealings are bringing him under fire again.
The president's son is working closely with an art dealer, Georges Berges, who has ties to China and a past involving an arrest for terrorist threats.
Hunter Biden Uses Shady Art Dealer with Strong Ties to China to Sell His Garbage Artwork For Up to $500,000 Per Painting – Buyers Will be Kept 'Confidential' https://t.co/DHUxZG0mMJ via @gatewaypundit

— 🇺🇸TEX GHOST🇺🇸 (@Tex_Ghost) June 17, 2021
Art is Hunter's new career path, and according to an interview on June 14, 2021, he says his paintings are about "bringing forth… universal truth." His upcoming work with Berges included an autumn show in Los Angeles and a New York exhibition.
The prices for his pieces range from $75,000 to $500,000, and all sales are confidential, which Berges says is "to protect the privacy of the collector."
Unsurprisingly, this situation is causing some concern. A recent Senate report provided information about a potential 2017 money laundering scheme. An energy company owned by the Chinese government wired $5 million to a bank account for Hudson West III. Hunter Biden has an ownership stake in that company. The business sent frequent payments throughout 2018 totaling almost $5 million to Hunter's firm, Owasco.
There is some seemingly justifiable speculation Hunter's new art career could be a cover for a money-laundering scheme originating in China.
~Here's to Our Liberty!
Copyright 2021, LibertySons.org