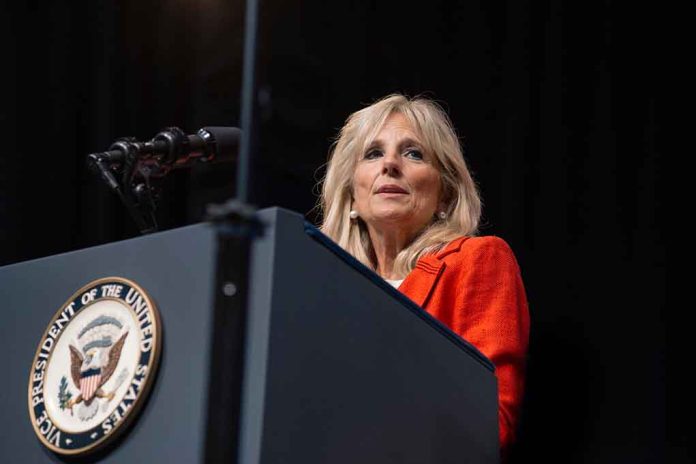 (LibertySons.org) – When two people get married, they often treat the other person's children as their own. First Lady Jill Biden is no different. In a recent interview with Arlette Saenz of CNN, the president's wife spoke out against the criticism and controversy surrounding Hunter Biden, her stepson, according to Fox News.
The First Lady expressed her love and support for the younger Biden. Her message of affection came despite negative comments the First Son has made about her in the past, as revealed by his infamous laptop. She acknowledged the complex and challenging family dynamics that can arise in navigating family relationships, emphasizing the importance of family support.
Jill Biden Praised Hunter. His Take On The First Lady Is Different. https://t.co/lj0A7GagRn pic.twitter.com/eEAflsA5Ot

— Daily Wire News (@DailyWireNews) March 7, 2023
However, the younger Biden doesn't seem to share the same sentiment, or at least he didn't use to, according to recent revelations. The Daily Wire recently reported that the First Son had a few choice words regarding his stepmother. In one message, Biden told Hallie, his sister-in-law-turned-significant other, that his father's wife was a "f*****g idiot." The First Son also declared that his stepmother was a "silly entitled c***."
Despite the controversies surrounding Hunter, Jill professed her love for him and said she would stand up for him in any way she could. The first lady also believed that investigations into Hunter Biden's allegedly corrupt business dealings wouldn't impact her husband's potential 2024 re-election campaign.
The First Lady also discussed her husband's age and whether it would concern her and their family. The first lady cited the president's good bill of health from his doctor and his recent trip to Ukraine as evidence that he is still physically capable.
The First Son has faced significant controversy since the discovery of his laptop, which allegedly contains evidence of his corrupt business dealings and extensive drug use. Despite the accusations and her stepson's harsh comments, the First Lady made it clear that she stands behind him to her full extent.
~Here's to Our Liberty!
Copyright 2023, LibertySons.org