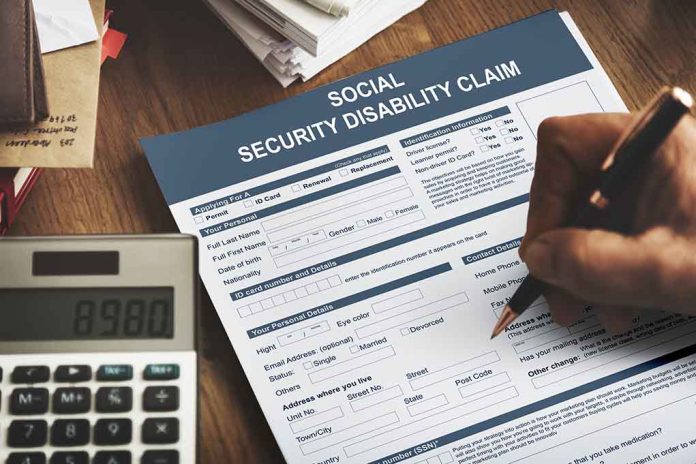 Filing For Social Security Disability? Read This Easy To Follow Guide First
(LibertySons.org) – It's critical to fill out a Social Security disability application right the first time to avoid lengthy appeal processes with the Social Security Administration (SSA).
How to File for Social Security Disability
There are three ways qualified individuals can apply for SSDI. The SSA allows qualified individuals to:
Apply in person by visiting a local Social Security office
Apply over the phone by calling the toll-free SSA number at 1-800-772-1213 (or TTY 1-800-325-0778 for hard of hearing or deaf individuals)
Applicants who call the national SSA toll-free service do not need an appointment to complete their application. However, they can call ahead and schedule one to reduce the time spent waiting to apply.
Applicants can also help reduce the application time by being ready to provide any required documents and answering the questions listed on the SSA Form SSA-16 webpage.
Additionally, a third party can help their loved one apply for disability benefits online without any official appointment or designation unless the person seeking the benefits wants to do so. The third-party can answer the questions as the person they are helping would if the latter is available to sign the application upon completion.
It's critical to file your application correctly and do it immediately if you become disabled due to the five-month waiting period. The exception to the waiting period is someone who has amyotrophic lateral sclerosis (ALS).
What to Do Upon Denial of Your Application
Less than 40% of first-time SSDI applicants receive benefits. However, denied qualified applicants can appeal the decision. They could request an appeal online to start the process or continue with their current appeal if they have an ongoing one.
Still, applicants denied their Social Security disability insurance should contact an SSDI attorney to review their application and help with the appeal process. The good news is that they are eligible for back-pay dating back to their initial application.
Anybody qualified to apply for social security disability benefits should ensure they fill in the correct information and have the needed documents to complete the application. Otherwise, the SSA will deny the application, forcing them to appeal.
Copyright 2022, LibertySons.org