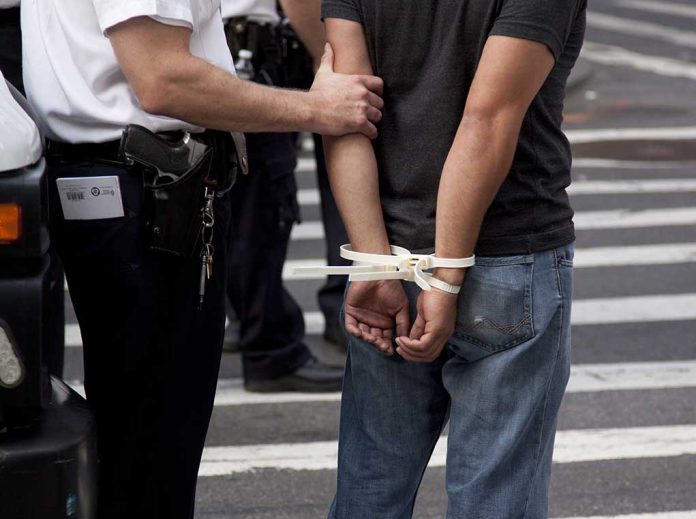 (LibertySons.org) – Protestors recently disrupted a House meeting in Montana's capital after the Speaker of the House, State Representative Matt Regier (R), refused to allow a fellow Representative to speak on the chamber's floor. Authorities have arrested several people in connection with the disruption.
Leo Dutton, Sheriff of Lewis and Clark County spoke with KTVH, an affiliate of NBC News, and confirmed that seven people were arrested in connection with the protest. The demonstrators were charged with criminal trespass after they refused to leave the area overlooking the House floor.
Seven arrested in protest that disrupted Montana House hearing on youth transgender bill https://t.co/xzTopa1gY2

— Just the News (@JustTheNews) April 25, 2023
The seven protestors were part of a group that was shouting and chanting after Regier prevented Representative Zooey Zephyr (D), a transgender woman, from speaking on the floor. The Democrat had previously spoken before the House and declared that lawmakers who supported Senate Bill 99 had blood on their hands and should be ashamed of themselves. SB99, if signed into law, would ban medical providers from performing gender-affirming surgeries on minors.
The chamber's GOP members expressed their disapproval of the Democrat's remarks. The House Speaker later noted her concerns, and those of other lawmakers, that Zephyr wouldn't hold herself in a professional manner if called upon again.
Regier explained that as speaker of the house, he has the authority to make final decisions on who does and doesn't get to speak on the House floor. Supporters of the Democrat claim the speaker is censoring Zephyr's voice and therefore taking representation away from her constituents.
Republicans issued a statement describing the event as a "riot by far-Left agitators," adding the demonstration didn't "represent Montana's values." They thanked law enforcement for quickly and professionally handling the situation and said they would "uphold the people's will that sent 68 Republicans" to the state's capital. Montana House Democrats also released a statement defending the actions of the group of protestors, calling it an "incredible statement in support."
~Here's to Our Liberty!
Copyright 2023, LibertySons.org