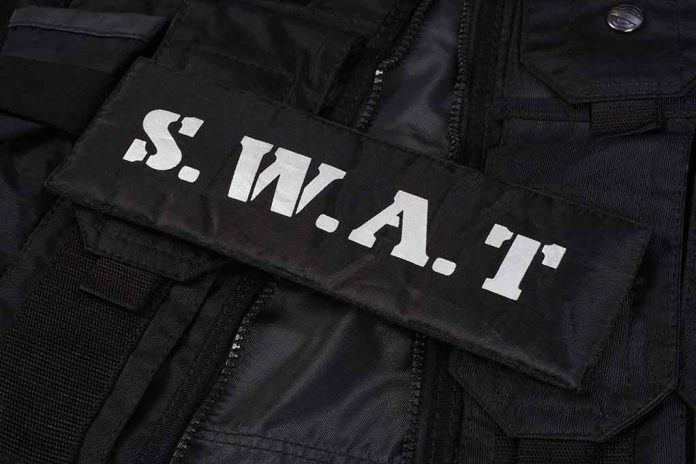 3 SWAT Members Wounded After Arrest Warrant Goes Wrong
(LibertySons.org) – SWAT officers in Philadelphia were serving a warrant on the morning of October 12. They alerted the suspect by knocking on the door, but instead of giving a normal response, the wanted individual began firing shots at them. Three police members suffered wounds from which they will recover, but the exchange left the alleged criminal dead.
3 SWAT officers shot in Philadelphia while serving homicide arrest warrant: reports https://t.co/ENNVkO36yL via @foxnews

— Chris 🇺🇸 (@Chris_1791) October 12, 2022
The teenage suspect, Raheem Lee, was facing charges of robbery and homicide. He began shooting at the SWAT team through the door and windows of the home. After the attack, he attempted to escape through the back of the residence, but officers stopped him, resulting in more shots fired and Lee's death.
Police Deputy Commissioner John Stanford gave a press conference about the incident, calling it "ridiculous." He contended law enforcement should never expect to get into a gunfight when trying to do their jobs. Stanford said the violence in the city requires putting more of these suspects behind bars and holding them accountable.
In a statement, Philadelphia Police Commissioner Danielle Outlaw, who was out of state attending a conference in Texas, made it clear she and her officers are "tired" of serving warrants on people they've arrested in the past. She noted repeat offenders, especially those who have violent criminal charges, should not be on the streets and questioned why they are not behind bars. She ended by saying that despite the current legal system issues, she stands committed to ensuring the city's safety.
~Here's to Our Liberty!
Copyright 2022, LibertySons.org