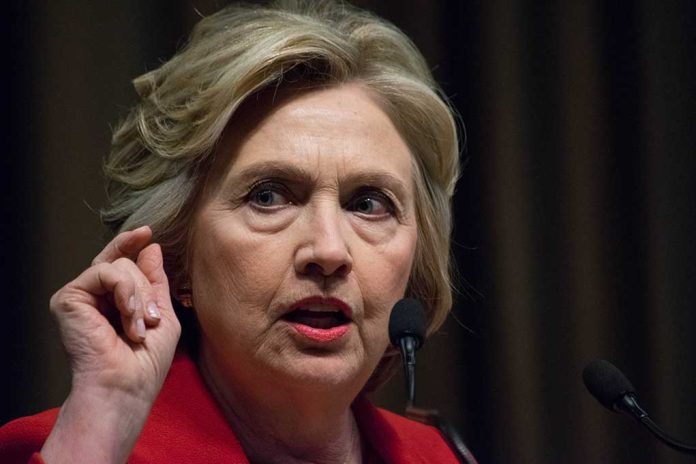 (LibertySons.org) – Florida's Republican Governor Ron DeSantis and other conservative lawmakers have been battling Disney over the woke company's resistance to state laws regarding the LGBTQ community. As the company and the GOP go at it, failed presidential candidate Hillary Clinton stepped into the fray and attempted to troll Republicans over their dispute with the entertainment company.
The former First Lady is a longtime ally of Disney CEO Bob Iger, so it doesn't come as a surprise that she would back the corporation in its fight against the GOP. Clinton posted an old photo with her husband, former President Bill Clinton, their daughter Chelsea, and Donald Duck. She tried to mock Republicans by writing that she knew "whose side I'm on" as Republican lawmakers "declare war on Disney."
As Republicans declare war on Disney, I know whose side I'm on… pic.twitter.com/THiLKOzo8v

— Hillary Clinton (@HillaryClinton) April 18, 2023
However, the former first lady appeared to overlook the fact that Republicans didn't start the conflict. Disney is actually the one who cast the first stone when it spoke out against Florida's "Parental Rights in Education" bill.
Disney publicly condemned the law, which the mainstream media attempted to demean by calling it the "Don't Say Gay" bill. In reality, the law was designed to protect young school children from being exposed to sexual indoctrination and transgender ideology. However, even after DeSantis signed the bill into law, Disney continued to criticize Republican lawmakers, claiming the new legislation was a violation of basic human rights.
As a result of the company's continued resistance, the Florida legislature stripped Disney's right to self-governance in its district and its special tax privileges. The company's board pulled a fast one and retook control of the district for decades.
DeSantis recently announced his plans to have the Florida legislature reassume control and reverse Disney's effort to subvert the will of Floridians. Iger shot back by calling DeSantis "anti-business" and claiming he's "anti-Florida.
That recent scuffle prompted Clinton to enter the debate. While it remains unclear which side will prevail during the war of words and power, one thing remains certain — Clinton appears to have lost this round.
~Here's to Our Liberty!
Copyright 2023, LibertySons.org