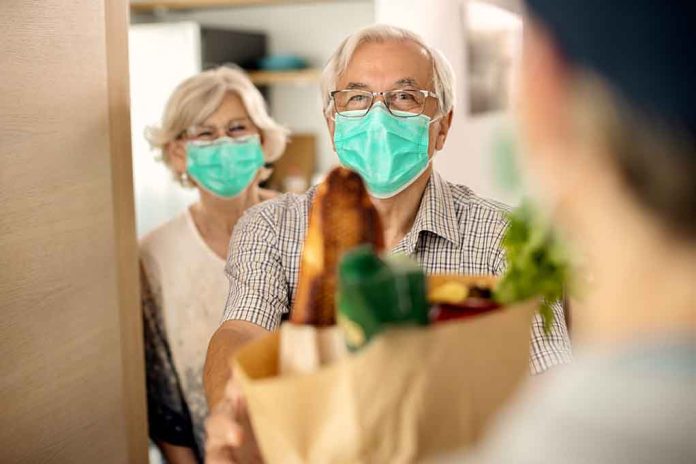 Know a Senior In Need? Help Them Maximize Food Benefits (Easy Steps)
(LibertySons.org) – Food insecurity is a growing problem in America, with many people not knowing where their next meal will come from or how to acquire a nutritionally substantial meal. The impact of the pandemic has only worsened this problem. While we often think of how it affects adults (often working multiple jobs) and children in a household, there is one demographic in the hunger epidemic that often gets left behind: senior citizens.
Senior citizens face many potential challenges when it comes to food insecurity. If they're home alone during the day, it may be hard for them to engage in food prep depending on their medical condition. Often, grandparents will prioritize their grandchildren and children when it comes to ensuring everyone's fed, putting themselves last. With a fixed or limited income and little access to adequate social protection, senior citizens unfortunately suffer.
Five million American adults are in a risk category for suffering from nutritional issues due to a lack of access to food supplements considered nutritious. If this sounds like an issue facing a parent, grandparent, or another senior citizen you know, there are some things you can do to help ensure your favorite senior gets consistently fed. Here are three programs for them to enroll in immediately:
Supplemental Nutrition Assistance Program (SNAP)
Also known as "food stamps," SNAP is the most effective and widespread means of ensuring Americans at risk of hunger get fed. It's a federal program, though administered by states, and most beneficiaries receive about $104 per month. A qualified recipient can use it at convenience stores, supermarkets, specific types of retailers, and grocery markets.
This program benefits many older adults nationwide, but only 48 percent of them are enrolled in the program. Many assume they're not going to qualify due to a lengthy SNAP application process, but that's often a false assumption. A qualifying senior gets funds distributed on an Electronic Benefits Transfer Card (EBT Card) which is prepaid and reloaded — it works just like a debit card.
Senior Farmers Market Nutrition Program (SFMNP)
The SFMNP is a supplemental program intended to be used as an addition to SNAP. Your favorite senior citizen can get fresh fruits and veggies, if 60 years of age or older, from farmers' markets, co-ops, roadside stalls, and more. It also encourages spending money within the community on locally grown produce. The program only runs from July 1 to October 31, though, and it's open to low-income senior citizens. State institutions run it — check with the US Department of Aging for more information about how to get your favorite senior signed up.
Commodity Supplemental Food Program
Have you heard about the Senior Food Box Program? That's the more common name for the Commodity Supplemental Food Program. This is specifically for people 60 years of age and older who hail from low-income communities fighting hunger. Qualifying seniors get a $50 monthly food package with nutritional supplements. They aren't complete meals, but like the SFMNP, the Senior Food Box Program is intended to supplement SNAP benefits to ensure aging Americans get the healthy, nutritious food every person needs and deserves.
One of the best things you can do for a senior citizen in your life is show them the same care and respect that they have shown you. Help them sign up for these three programs, which work best together! You can help the senior work with their caseworker, or access information about these programs at local public facilities like your nearest library or senior center. Show them the love: keep them fed today!
Copyright 2022, LibertySons.org