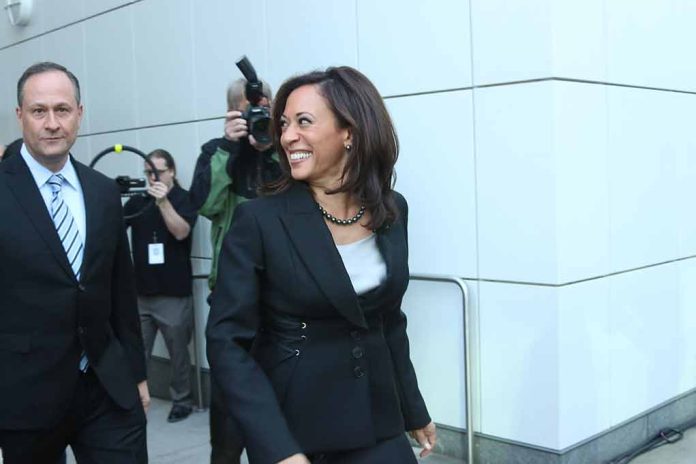 (LibertySons.org) – President John F. Kennedy died in office almost 70 years ago, a victim of an assassin's bullet. Lyndon B. Johnson, his vice president, assumed the presidency standing next to the shaken former first lady, Jackie Kennedy. For many Americans, the phrase "a heartbeat away from the presidency" took on new meaning, and the selection of vice presidential candidates became as critically important as those for president. In a recent interview, current Vice President Kamala Harris confirmed she remained ready to undertake the role of commander-in-chief should President Joe Biden become unwell.
Her statement apparently brings cold comfort to many Americans. A September 2 through 5 YouGov poll indicated that of 1494 people surveyed, only 36% had a favorable or somewhat favorable opinion of the vice president. By contrast, 55% had a somewhat or very unfavorable view of Harris. The survey reflects a 19-point disapproval spread among all voters.
Harris has consistently supported Biden, arguing that she sees him making valuable policy decisions to benefit Americans daily. She said she sees "his ability to understand issues and weave through complex issues in a way that no one else can." She added, "Joe Biden delivers."
However vital Biden may seem, the CDC cites the US average life expectancy for men as 73.5 years. Biden will be 81 in November and, if elected in 2024, would turn 82 before he takes the oath of office again. So, many voters worry that a vote for Biden for president could transform into electing Harris as POTUS, a prospect many find appalling.
Those who adamantly disapprove of Harris point to her record or lack of one. Biden gave her the task of solving the southern border problems, and it took her five months to visit the border. She stopped in El Paso once in June 2021. She instead favored traveling to Mexico and Central American countries to negotiate aid packages, hoping to stem the flow of migrants using a top-down approach.
Others argue Harris has had trouble maintaining staff in her own office, which has seen a very high turnover rate since her inauguration. Critics argue her inability to manage the smaller office doesn't bode well for managing a presidency.
~Here's to Our Liberty!
Copyright 2023, LibertySons.org