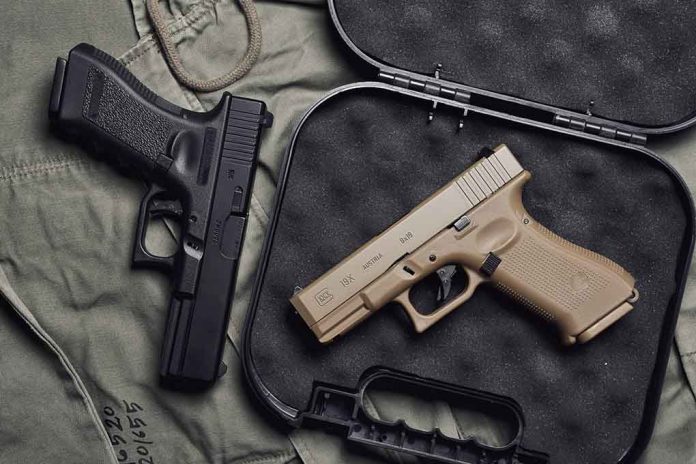 Top Gun Maker SUED – See the Reason Why
(LibertySons.org) – New York just put a controversial law in place that allows people to sue gun manufacturers. Thanks to legislation from 2005 at the federal level, the industry could often sidestep such lawsuits. But after a trip to court, a judge upheld the new law, allowing a victim of a subway shooting to sue gun manufacturer Glock.
The Subway Shooting Case
On April 12, gunman Frank James left 10 victims with injuries after opening fire with a 9mm Glock handgun in the New York subway. One of the victims, Ilene Steur, filed a lawsuit after the incident against the gun maker using a new state law. The suit claimed the company marketed its products in a way that appeals to criminals. In her claim, she also said the company overproduced its firearms to encourage sales through secondary channels.
The New York Law Explained
Steur could bring her case to court thanks to the Public Nuisance Bill, which became law on July 6, 2021, in New York. The legislation allows for lawsuits against gun makers and sellers for harm committed with their products. The law also requires manufacturers to work toward preventing the illegal use of their products and makes companies liable for contributing to situations that cause safety and health issues.
New York Attorney General Letitia James stated the new legislation is an overruling of the PLCAA, which she called "federal overreach to protect the gun industry." The Protection of Lawful Commerce in Arms Act (PLCAA) became federal law in 2005, and it provides gun manufacturers with protection against lawsuits. The legislation says people who make or sell guns are not liable if someone misuses their products. However, the PLCAA doesn't shelter against all liability; it still holds companies accountable for defects and other situations where they have direct responsibility.
James vowed to protect the New York law against anyone seeking to challenge it in court.
The Challenge
Gun manufacturers and other interested parties sued New York in the Northern District of New York's US District Court, challenging the law as an unconstitutional violation of First and Second Amendment rights. They argued it violated the PLCAA, saying the language was too vague, leaving companies with some situations where they had no way to provide an adequate defense against claims.
Judge Mae D'Agostino ruled against them, upholding the law. She said she felt the law sought to maintain safety regulations imposed on all industries. She didn't find a violation of the PLCAA because the law's specific language detailed when gun makers would be liable. She also said there were no constitutional rights violations because there is no right to make or sell firearms.
The ruling against manufacturers' objections might help Steur's case. But it also brings up questions about whether the New York law is a good thing. Should people be able to sue gun makers for the actions of consumers?
~Here's to Our Liberty!
Copyright 2022, LibertySons.org