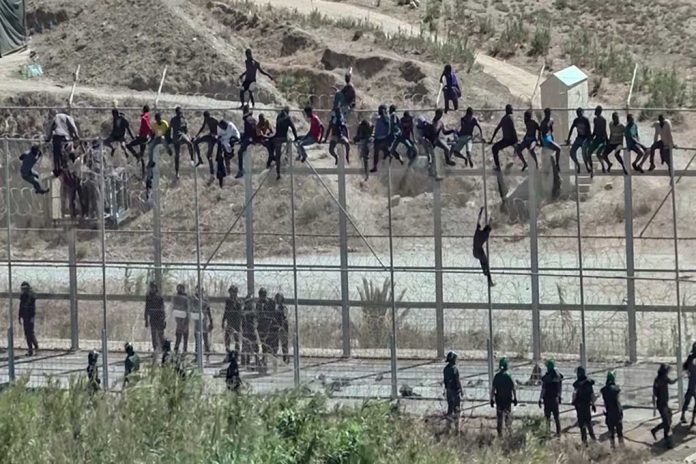 (LibertySons.org) – Yet another governor is voicing concerns about the border crisis. This time, it is a Democratic leader from California. Governor Gavin Newsom (D-CA) told ABC News reporter Matt Guttman the federal government had dropped the ball on curbing excessive immigration, which is taking a toll on his state. He exclaimed the lifting of Title 42 would aggravate the situation.
Gavin Newsom warned that California would experience an unsustainable flow of illegal immigrants once Biden reverses Title 42.

"What we've got right now is not working and is about to break in a post-42 world," Newsom said.

Via @SusannahLuthihttps://t.co/zxOgwFiWKW

— Washington Free Beacon (@FreeBeacon) December 13, 2022
Title 42 is a public health order giving border patrol agents the ability to remove migrants faster than previous immigration laws allowed. Former President Donald Trump enacted it as part of his pandemic policies to help protect Americans from the spread of COVID-19.
Newsom said California lacks the funding to keep helping immigrants flooding the area. He said officials have overwhelmed centers designed to provide aid, and when Title 42 lifts on December 20, he expects many people will have little to no place to turn. The governor did note he would not take measures like Republican Governors Ron DeSantis (FL) and Greg Abbott (TX) and fly the overflow of people to sanctuary cities in other states.
On December 13, Secretary of Homeland Security Alejandro Mayorkas said the department has been preparing for an increase in immigrants since February. However, he called the United States immigration system "outdated" and said a large influx of people coming across the border would cause heavy stress. Mayorkas said the Biden administration is doing everything it can, but the responsibility to fix things lies with Congress.
~Here's to Our Liberty!
Copyright 2022, LibertySons.org