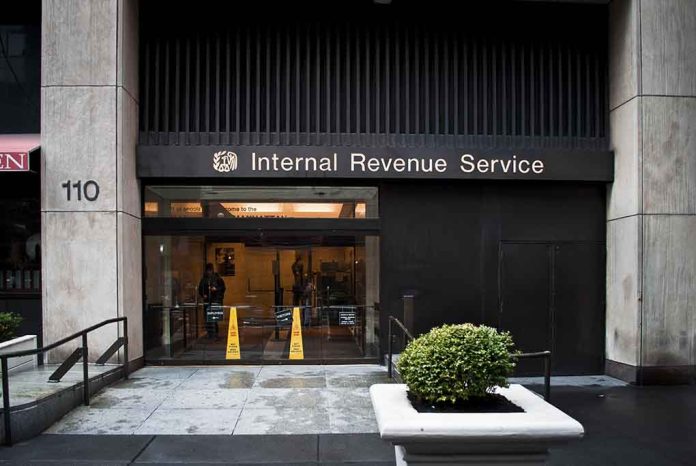 (LibertySons.org) – Once Kevin McCarthy (R-CA) took the speaker position in the US House of Representatives, he got down to work. He made it clear part of his agenda was to undo the spending Democrats had done in the 117th Congress, beginning with slashing IRS funding. On January 10, GOP members took a step toward that effort with the introduction of HR 25.
About the Act
Representative Buddy Carter (R-GA) re-introduced the legislation, formally known as the Fair Tax Act of 2021. In a press release, he stated he was proud this was his first contribution as a representative.
The bill reportedly takes steps to make the tax code easier to understand and completely changes the way taxes work in the United States. It would replace income tax with sales tax. Under the new system, each person would pay taxes on items or services they purchased instead of through payroll deductions.
The new setup would guarantee everyone paid their share. It would eliminate tax forms and complicated yearly processes while also removing payroll taxes and those on estates and for gifts.
The legislation also would cancel the money allotted for the IRS in the budget bill passed in the 117th Congress. It would essentially eliminate the need for the agency altogether.
The intention is to help end the debilitating impact taxes have on the working class and small businesses.
The bill had strong support among the GOP. Representative Kat Cammack (R-FL) called it "commonsense legislation," and it had 30 Republican co-sponsors.
Opposition from the Left
In a statement on January 9 concerning another GOP-sponsored bill to cut IRS funding, the Biden administration made it clear it did not support any legislation that attacked this agency. It stated the administration stands by the funding for the IRS as the only way to make the rich pay their fair share and clarified the belief that trying to push any legislation of this type is a message from House Republicans that they intend to fight for the top income earners over everyone else.
The Future of the Bill
This type of legislation first came on the scene in 1999, so it isn't anything new. Former Representative John Linder (R-GA) introduced the earlier version of the bill, which began a movement among the GOP to work to simplify the tax code and abolish the IRS. But the idea has had strong opposition from Democrats.
Passing HR 25 would require approval from the Senate and a signature from the president. While the GOP controls the House, it does not have power in the other chamber to pass this legislation. Essentially, this bill seems to be a statement of Republican dissatisfaction with the tax code and a need for reform more than anything else.
~Here's to Our Liberty!
Copyright 2023, LibertySons.org