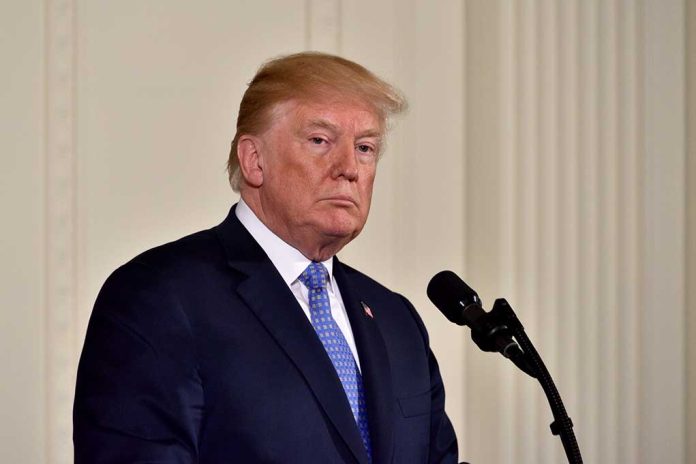 (LibertySons.org) – On November 15, former President Donald Trump announced he would run for president again in 2024. However, the revelation did not get cheers from everyone within the GOP. For some members, there are significant concerns the move could spell disaster for the Republican party. One outspoken critic is Arkansas Governor Asa Hutchinson (R), who feels another candidate may be better qualified for the job.
The violence at the Capitol on Jan. 6, 2021, "disqualifies" former President Donald Trump from winning the Republican presidential nomination in 2024, Arkansas GOP Gov. Asa Hutchinson, who has been hinting heavily about mounting a campaign, said Sunday. https://t.co/ip6A0DpMK2

— NEWSMAX (@NEWSMAX) January 1, 2023
Hutchinson spoke about the former president on the January 1 airing of "This Week with George Stephanopoulos" on ABC News. He admitted Trump still maintains popularity among Republicans but believes what happened on January 6 at the Capitol "disqualifies him" from returning to the White House.
The governor explained he is considering running himself but feels whoever grabs the nomination must unite the party and put forth a strong defense against Democrats. The person must have solutions to the problems the Biden administration created and a solid plan for moving ahead. Hutchinson made it clear he doesn't feel Trump is the right choice because he creates "chaos."
In a USA TODAY/Suffolk University poll from mid-December, 61% of Republican voters said they wanted someone other than Trump to get the 2024 nomination. They seem to have a preference for Florida Governor Ron DeSantis (R), with 56% choosing him over the former president.
Hutchinson suggested that people are moving away from Trump because of the controversy surrounding him. His leadership style is no longer working for a lot of Republicans. The governor advised 2024 would be an opportunity for the GOP to change the face of the party.
Still, he cautioned that it's too early to make predictions, noting the party's divide is pitting pro-Trump voters against those who want someone else. Hutchinson added that whatever happens leading up to the next election, unity should be the goal.
~Here's to Our Liberty!
Copyright 2023, LibertySons.org